Midland Met finally due to sign deal with replacement contractor Balfour Beatty later this month
The trust responsible for completing the Midlands hospital left stalled by Carillion's collapse last January is worried the 2022 Commonwealth Games could derail its efforts to rescue the project.
The Sandwell and West Birmingham Hospitals NHS Trust has revealed it has concerns about competing for skills with the construction programme to get Birmingham ready for the Games as it races to complete the Midland Metropolitan Hospital.
The trust said it had discussed labour risks with Balfour Beatty, which is set to sign up as the replacement contractor on the job later this month.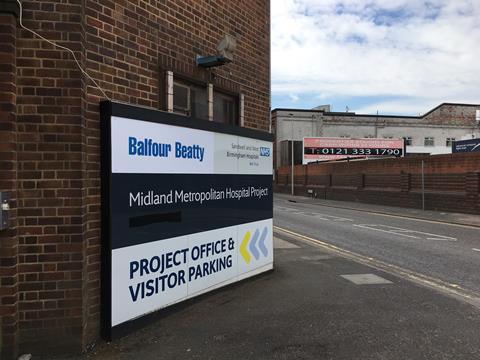 It said: "Their [Balfour Beatty's] view was that [the] labour risk was around competing construction work in the local patch.
"The chair noted that the Commonwealth Games works were also a consideration."
The team in charge of the Commonwealth Games programme has raised similar concerns and has also cited HS2 as potential threat to securing necessary skills.
The trust's comments came in papers published ahead of this week's meeting of its board.
But the trust said Balfour was confident that if it hit the planned timeline "they would be at the front of the queue" when it came to resourcing the job.
The trust board also raised concerns about whether the aim of the hospital being operational in time for the Games would add extra pressure to the programme.
Trust chief executive Toby Lewis said the Games deadline was discussed at every meeting with Balfour Beatty.
The board papers said: "The delay in approval [of the final business case] was making the timeline tighter.
"The expectation was that they would start with a programme that included a five-week float, which was deemed proportionate to the size of the project."
The £350m final business case was approved by the government last month with the trust hoping to sign the contract with Balfour by 29 November.
The trust said that most of the pressure associated with hitting the Commonwealth Games deadline would be felt in the commissioning period.
It said the pinch point was likely to be the period between practical completion in April 2022, and its opening three months later in June.
The Commonwealth Games are set to run from 27 July to 7 August 2022.