Richard Adam sold £776,000 worth of shares within six months of retiring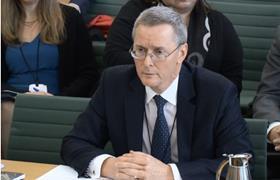 The parliamentary inquiry into Carillion's collapse has accused former finance director Richard Adam of "dumping" his shares at the "first possible moment".
The comments from the co-chair of the inquiry Frank Field come after the publication of letters from former finance directors Adam and Zafar Khan.
Field, who chairs the work and pensions committee, said: "Mr Adam presided over Carillion's finances for a decade. He, more than anyone else, ought to know the merits of Carillion shares as a long term investment in the light of his lengthy and lucrative tenure.
"His assessment? Dumping the last of his shares at the first possible moment because he is – with his own money at least – 'risk averse'. What conclusions are we to draw from that?"
Adam (pictured) retired from his position at Carillion on 31 December 2016.
On 1 March 2017 he sold his entire existing shareholding for £534,000, including performance awards for 2013-2015 of £277,000 which vested on his retirement.
He then sold his long term incentive plan awards for 2014 on 8 May 2017, the day they vested, for £242,000.
In total, he sold shares worth almost £776,000 within six months of retiring from the failed contractor.
The company's shock profit warning of £845m – which had to be revised up from an original £695m by interim chief executive Keith Cochrane – was announced on 10 July last year.
| | | |
| --- | --- | --- |
| Richard Adam's Carillion share sales following his retirement | | |
| | Shares | Value, £ |
| Shareholding | 122,014 | £256,286 |
| Share bonuses for 2013, 2014, 2015 performance (vested 31/12/16) | 93,472 | £196,335 |
| LEAP long term incentive plan for 2013 (vested "on or around retirement") | 38,594 | £81,065 |
| Total on 1 March 2017 | 254,080 | £533,687 |
| | | |
| Sold for £2.15 per share on 8 May 2017 | | |
| LEAP long term incentive plan for 2014 (vested on 8 May 2017) | 112,416 | £242,234 |
| Overall total March-May 2017 | 366,496 | £775,921 |