Works include providing accommodation for troops resettling from Germany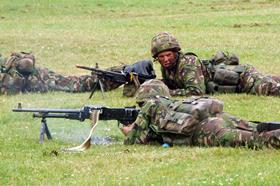 A Carillion joint venture has won £1.1bn worth of contracts with the Ministry of Defence.
Carillion, in joint venture with $7bn-turnover US contractor KBR, has won a deal to carry out building and repair work across the huge Army Basing Programme, which involves relocating 100 army units and the resettlement of all troops from Germany.
Works will include the design and construction of 130 new buildings, extensions and alternations to existing buildings, and associated infrastructure works.
Troops will be relocated at the Ministry of Defence's Salisbury Plain Training Area and at its Aldershot base.
Carillion chief executive, Richard Howson, said: "We are delighted that Aspire Defence Limited and its sub-contractors Aspire Defence Capital Works and Aspire Defence Services have been selected by the Ministry of Defence to deliver this major element of the Army Basing Programme.
"I believe this reflects in the successful delivery of new living and working accommodation along with associated assets for Project Allenby/Connaught, together with the high-quality, value for money services that will continue to be provided for this project."