Contractor's interim CEO says "much remains to be done" to square the group's finances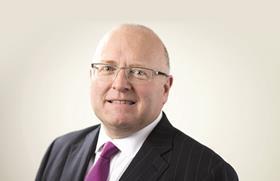 Carillion's interim chief executive Keith Cochrane has warned more work needs to be done to reduce the troubled contractor's debt mountain, as the group announced the sale of its stake in two businesses for nearly £14m.
As it seeks to slash its £850m debt pile and hit its disposal target of £300m, the firm announced the sale of its 66.67% interest in Ask Real Estate (ARE), as well as a shareholder loan made to an ARE subsidiary. It also revealed the disposal of its 50% stake in Ask Carillion Developments (ACD).
Both were sold to subsidiaries of Dukehill, a residential and commercial property developer, for £13.8m.
Carillion said its profits from its interests in ARE and ACD varied "significantly from year to year", and had not been expected to make a "material contribution" to group profits in 2017.
In a statement Cochrane (pictured) said he was pleased to announce what he called "further progress" in reducing the firm's debt.
But he added: "Much remains to be done and we are continuing to executive our plans to refocus the business, reduce cost and strengthen our balance sheet."
Cochrane is set to relinquish his interim role in April next year when Wates boss Andrew Davies takes over the reins.
Davies, whose appointment was announced last week, has been Wates' chief executive for nearly four years, taking over from Paul Drechsler who had led the firm for nearly a decade. He previously held a number of senior roles with defence and aerospace firm BAE Systems for nearly 30 years.
Also last week, Carillion announced it had found a buyer for most of its UK healthcare management services operation, with Serco paying £50m for what was described as a "large part" of the business.
Carillion said it planned to sell off the remaining contracts in its UK healthcare facilities management portfolio during 2018.