Failed contractor bagged the job last October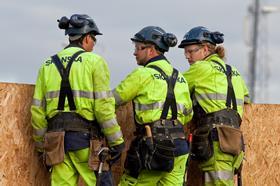 Hampshire County Council has appointed Skanska to complete Carillion's work on the Whitehill and Bordon relief road.
Carillion landed phase two of the project, which was worth £20m, on 21 October 2016, with the contract to be formally terminated today.
The southern end of the relief road, which is the section Carillion was responsible for, is due to be completed this spring to allow for a new housing development.
Once finished, the road will be approximately 4.1km long and run from the north of Bordon, on the A325 Farnham Road, pass through the Ministry of Defence area to the west of the town, and reconnect with the A325 to the south at the A325 junction in Whitehill.
Cllr Rob Humby said: "Having followed the due legal process with PwC, who have been appointed to manage the wind up of Carillion's affairs, we are now in a position to terminate the contract with Carillion.
"Our first priority is to ensure the completion of the southern section of the relief road from the A325 / Firgrove Road roundabout to Junction 2 to allow access to the first phase of new housing. We have made arrangements with Skanska to complete this work and will begin detailed programme discussions with them next week. We will be able to provide further updates following this."
Last week it was announced that Caddick had drafted in its construction arm to take over from Carillion on a £154m residential scheme in Manchester, two weeks after work stopped at the site following the contractor's collapse.
Meanwhile, a £700m mixed-use scheme in the centre of Birmingham is still weeks away from fully restarting after Carillion's collapse caused the development to grind to a halt.
The bust firm was building the first office building at the Paradise scheme – set to be occupied by PwC – and delivering other site-wide works on a £250m contract.
Argent, which is developing the scheme for a team including the city council, had hoped work would be back up and running within a week after Carillion's failure.
But Rob Groves, regional director of Argent, confirmed discussions about restarting work with Carillion's supply chain were still continuing more than two weeks after the contractor went under.