Contractor has been appointed to build three buildings in the north of Argent's King's Cross scheme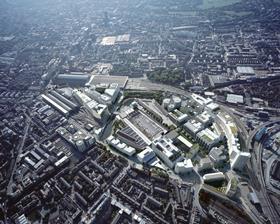 Carillion has been appointed to build three buildings worth more than £100m on Argent's mammoth King's Cross regeneration scheme.
The unnamed builds are situated in the north zone of the development and comprise design and construction of a large commercial building and two residential buildings, according to a statement issued by Carillion to the City this morning.
Construction will start next year, with completion scheduled for 2017.
Carillion chief executive Richard Howson said: "I am delighted that Carillion has been selected by Argent to design and construct these prestigious new buildings at King's Cross.
"This builds on the strong long-term relationship we have established with Argent that I believe reflects our reputation for high-standards of quality, value for money and sustainability."