EY reportedly on standby if rescue package can't be agreed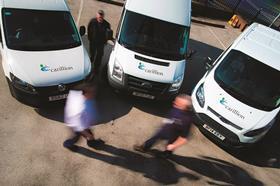 Carillion's shares have plunged by a third after it reportedly lined up accountancy firm EY as an administrator if crunch talks about a rescue plan collapse.
Shares in the country's second biggest builder fell by more than 35% on the news and this afternoon were down by 19% at just 16.15p.
According to a Sky News report, EY and PricewaterhouseCoopers were asked to compete for the role as administrator to the firm in recent weeks, with the former said to have been lined up by directors.
In July, Carillion appointed EY to help carry out a review of its business, a week after it announced it was taking a £845m hit on a number of problem contracts.
The move is being seen as a contingency plan by Carillion, which employs more than 20,000 people, as it attempts around £300m of emergency funding by the end of this month.
The Sky News report added this does not necessarily mean EY will ultimately be appointed.
It comes as government officials and regulators hold crisis talks today in an attempt to safeguard the interests of more than 28,000 pension scheme members who could face retirement cuts if Carillion collapses.
These talks take place 24 hours after a meeting of ministers from a number of Whitehall departments, reported by the Financial Times, to discuss contingency plans for the firm's collapse.
Carillion met banks including Barclays, HSBC and Santander, on Wednesday about a possible rescue package, with speculation growing it would have this in place by the time new chief executive Andrew Davies joins later this month.
This saw its share price jump 26% in trading on Monday, with Carillion issuing a statement to the London Stock Exchange claiming it didn't know why this had happened.
Cenkos analyst Kevin Cammack said: "A crucial stage has been reached, with Carillion having something to put to its lenders and stakeholders [pension fund].
"I honestly could not say whether it's enough and I'm sure much brinksmanship will be on display over the next few days. The sheer number of lenders, both UK and overseas, makes it harder but I believe that the major two UK banks have agreed a debt to equity in principle."
Meanwhile, trade union Unite has also urged the government to "consider all possible options" regarding Carillion, including bringing contracts in-house.
The union represents over 1,000 workers at the contractor and its assistant general secretary Gail Cartmail said: "The government must consider all options while the future of Carillion hangs in the balance, including bringing contracts back in-house.
"If taxpayer's money is used to fund corporate mismanagement then the government should be looking to ensure that public sector contracts are brought back in-house at the earliest possible opportunity.
"If the government is forced to institute a rescue package, they need to also ensure that the supply chain is fully protected."
New Carillion chief executive Andrew Davies is due to start at the Wolverhampton-based business on Monday week.