Developer's joint venture plans to build 19-storey student tower by 2015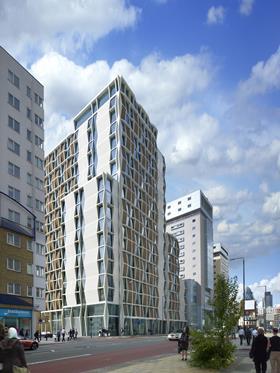 Developer Carlyle Group has bought a site for a £25m student housing scheme in central London through its Pure Student Living joint venture with Generation Estates.
The Carlyle Group said in a statement the joint venture will aim to complete the 60 Commercial Road scheme, which will see the construction of a 19-storey tower providing 417 student rooms, in 2015.
Pure Student Living has paid the existing owner £17m for the 60 Commercial Road site and the purchase of two nearby properties in Whitechapel also required for the scheme.
Carlyle said the scheme will offer a range of studio rooms alongside communal and amenity space, plus a 'sky lounge' on the top floor, offering views across London.
Carlyle Group said that Pure has also purchased 122-126 Back Church Lane and will develop an office building providing approximately 25,000 sq ft of office space targeted at hi-tech businesses.
This will commence construction in April and aims to be completed by late 2014.
Hafiz Ali, director at the Carlyle Group, said: "60 Commercial Road brings our Pure Student Living portfolio in Central London to five properties and, following the successful launch of our Pure Highbury scheme in 2012, means we will have 2,150 beds available by the end of 2015.