Site of former telegraph cable factory makes way for 272 new homes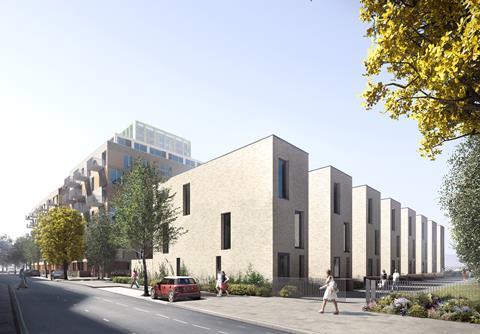 Cathedral Group has won planning permission for 272 new homes on the site of the former Telegraph Works in Greenwich, South-east London.
Designed by Allford Hall Monaghan Morris, the £120m transformation of the former telegraph factory near to the Millenium Dome will be delivered by a joint venture between Cathedral Group and Weston Homes.
The new development will provide 200,000 sq ft of residential accommodation in four building and will include an 18-storey tower.
The site of the new development has previously been home to a gunpowder store, a sail and rope factory and was used by a whaling fleet before being taken over by the Telegraph Construction & Maintenance Company Works.
The factory built the first transatlantic telegraph cable, made from seven copper wires, which when laid under the Atlantic Ocean enabled Queen Victoria to communicate with US President James Buchanan on the 16th August 1858.
The development also includes an allotment garden, a butterfly garden, picnic area and an avenue of courtyard houses. Approximately 20% of the new homes will be classed as affordable housing.
Martin Wood, Managing Director of Cathedral Group said: "The Telegraph Works is a historic site, dating back to Tudor England, which was subsequently used to manufacture the first transatlantic telecommunications cables and later a cross-channel petrol pipeline to support the D-Day invasion.
"This joint venture with Weston Homes will allow us to build on Cathedral Group's reputation for delivering excellent residential-led schemes in the Royal Borough of Greenwich. We are delighted to have also been able to support Alcatel Lucent bring forward the refurbishment of their factory on the site as part of the development which will help safeguard their future and ensure their continued presence in the borough."