Almacantar and Multiplex progressing revamp of 34-storey brutalist tower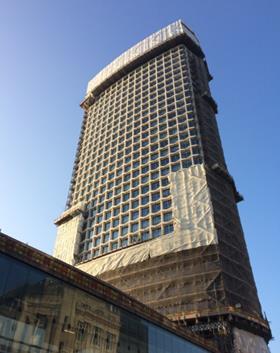 Structural work is almost complete and fit-out has begun on developer Almacantar's revamp of 1960s-built West End iconic tower Centre Point.
The Grade II-listed 34-storey brutalist building was originally designed by Seifert & Partners and engineers Pell Frischmann.
The revamp sees it converted from offices into 82 flats and penthouses, delivered by contractor Multiplex, returning engineers Pell Frischmann and architects Conran & Partners.
The tower's unique façade is being retained as part of the project. Nearly 600 workers are on the site daily, with work expected to complete by the end of this year.
Mike Hitchens, divisional director at Pell Frischmann said that without access to the original plans in the firm's archives it would have been "nearly impossible" to unpick the construction of the tower in order to redevelop it.
He said: "One of the hardest things [about the tower] was working out how the existing structure was working because if you don't know how it works you can't work out what you can and can't do to it."
Tim Bowder-Ridger, senior partner and chief executive at Conran & Partners, added: "The transformation at the top of this tower is a tremendous engineering achievement transforming hitherto unusable space into a blank canvas for residential accommodation".
Meanwhile, the low-rise Centre Point House connected to the tower is being turned into retail space, while at the St Giles side of the site affordable housing development is underway.
Centre Point was Alamacantar's debut property purchase in 2010. The developer - led by chief executive and founder Mike Hussey - is also developing Marble Arch Place and 125 Shaftesbury Avenue in the West End.
Multiplex is also building the Rafael Vinoly-designed Marble Arch Place scheme. The project includes an 18-storey residential tower, a 7-storey commercial building and a range of new ground floor cafes, restaurants and shops.