Developer reports solid financial performance, as Chris Gibson-Smith steps down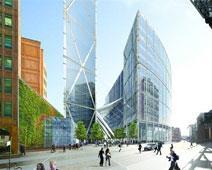 Chris Gibson-Smith, chair of developer British Land, is to stand down at the end of 2012, the firm announced today.
Gibson-Smith will be replaced by John Gildersleeve, currently senior independent director, from 1 January 2013. Gildersleeve joined British Land as non-executive director in 2008.
Chris Gibson-Smith said: "I have had a fascinating ten year journey with British Land, and the last six years as chair have been deeply rewarding. The Company is in an excellent position with a first rate team, portfolio and strategy."
The firm announced the change of leadership alongside its half year results which showed a small increase in profit and income for the six months to 30 September 2012.
It reported a 3.8% rise in underlying pre-tax profit to £137m in the first half of 2012-13.
The firm also reported a portfolio valuation at £10.4bn, up slightly from £10.3bn in the first half of 2011-12.
Chris Grigg, chief executive of British Land, said: "Today we're reporting a good set of numbers in what continues to be a tough market.
"Our results underline the strength and resilience of British Land's business. The decisions we have taken in recent years are ensuring we are not only delivering good results today but are also building growth into our portfolio for the future."
He said the firm was focused on significant development in central London and asset management.