Departing pair have racked up nearly 70 years between them at consultant
Currie & Brown's chief executive and chair are both leaving the firm at the end of the month after racking up nearly 70 years at the business between them
Chief executive Euan McEwan goes after a 16 year stint while chair David Broomer, who turned 70 last month, will leave after 13 years in the post.
Broomer's departure marks the end of a 51-year career with the consultant – his entire working life. The firm said the chairman's role will no longer exist once he goes.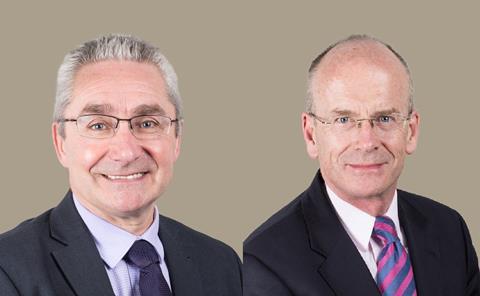 He became a partner in 1980, the youngest in the company's history, and in 1999 moved into the role of group managing director. He became chairman in October 2008.
>> Goodbye to The Godfather: Steve Pycroft interview
>> Comment: Ray O'Rourke going, Steve Pycroft leaving? Blimey!
McEwan, who turned 66 in October, will step down as group chief executive officer, having held this position since joining the company in 2005.
He will be succeeded by Alan Manuel, who has been chief operating officer, Europe and UK since 2016 when Currie & Brown won a bidding war with WSP to snap up the then listed Sweett Group for £29m.
Nick Gray joins Currie & Brown to lead the Europe and UK business, replacing Manuel. He joins from Faithful+Gould where he was regional lead for the North, Scotland and Ireland business.
Currie & Brown, which is part of Lebanese firm Dar Group, which also owns architect Perkins & Will, is expected to move into a new London headquarters next year at 150 Holborn which is currently being built by McLaren.
Currie & Brown was bought by Dar nearly a decade ago.