Brace of London projects awarded to Chinese firms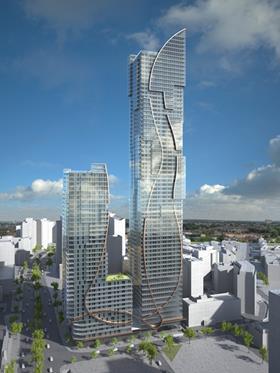 Two Chinese contractors have been awarded a brace of huge London schemes, amid a flurry of UK-China commercial deals announced this week to coincide with the state visit of Chinese president Xi Jingping.
China Building Technique Group (CBTCG) has been awarded the primary contractor role on Croydon's £500m One Landsdowne Road tower (pictured, left), while Citic Construction has landed the main contractor role on ABP's £1.7bn Royal Albert Docks development.
CBTGC will deliver the Croydon scheme in partnership with local developers Guildhouse Rosepride.
The One Landsdowne Road project will be located opposite the planned Westfield shopping mall and will be England's tallest residential building, providing over 65,000 sq m of space once completed.
CBTGC will consult on the design and engineering of the tower, while local workers and supply companies will be used for the actual build.
David Hudson, chief executive of developers Guildhouse UK in Croydon, said: "In the UK, the high-rise is a fairly new phenomenon, and many people are sceptical about whether Croydon can finish such as magnificent project. But with a partner like CBTGC, we know it is deliverable."
"CBTGC has already contributed a lot to the building, making it more efficient."
Mark Waterstone of Rosepride, said: "As a local developer who has worked in Croydon for many years, it gives me great pride to bring forward a scheme of such ambition and promise. I am delighted we have teamed up with CGTGC and I am extremely confident that we will deliver one of the most iconic landmarks to London."