Scarborough Group International has selected Beijing Construction and Engineering Group for the first phases of its £700m Middlewood Locks scheme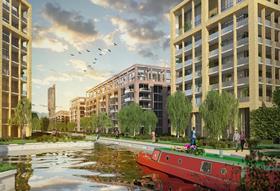 Real estate developer and investor Scarborough Group International (SGI) has selected Beijing Construction and Engineering Group (BCEGI) as the preferred contractor on the first phase of its £700m Middlewood Locks development.
The Chinese constructor and engineer has already worked with SGI on the design for the detailed planning application for the first phase of the new neighbourhood development submitted earlier this month.
The first phase will see 550 homes, 29,000 sq ft of commercial space and canalside public realm built on the 24 acre western gateway to Manchester's Central Business District.
A planning decision is expected before the end of the year and if approved SGI hope to start on site in the first quarter of 2016.
SGI development director Lee Savage said: "Middlewood Locks is a unique site with the potential to deliver thousands of new homes, jobs and a first-class business destination.
The selection of BCEGI means that we are on track to deliver the first phases of the development and we are confident that this scheme will be transformational for Salford and its wider regeneration activities."
Middlewood Locks received outline planning consent in March 2015 from Salford City Council to deliver a new mixed use community of around 2,000 new homes and up to 750,000 sq ft of commercial development space.
The development is centred on three large basins of the Manchester Bolton and Bury Canal in Salford and is expected to create 7,000 jobs in the region.
The scheme is being developed by FairBriar International, a joint venture between Scarborough, Top Spring International Holdings Limited, a Hong Kong-listed real estate developer in the People's Republic of China, and Metro Holdings Limited, a Singapore-listed property development and investment group.
BCEGI has already worked on the Airport City in Manchester and has actively been pursuing further investment opportunities in the UK announcing in August its most recent investment in St Michael's, Manchester.