Architect cuts losses and says revenue will be up in 2020
David Chipperfield Architects has reported a second year of pre-tax losses despite increasing turnover, according to the practice's latest annual results.
The practice behind a new headquarters for watch firm Rolex in New York and the renovation of the Piazza San Marco in Venice narrowed losses to £546,500 in the year to December 2019 from £1.5m in 2018.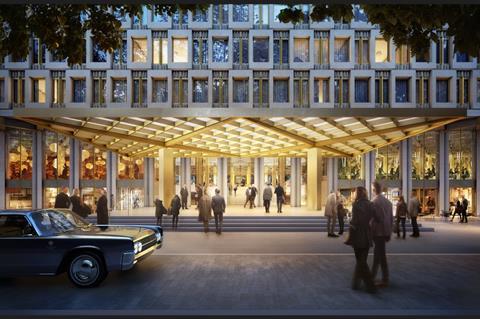 Revenue was up to £8.3m from just under £7m in 2018.
Turnover in the firm's Europe and Middle East region was up 68% to £2.91m but UK income dipped by around £126,000 in 2019 from the previous year's £4.37m. North and South American revenue was up by 42% to £968,827.
A strategic report by the practice said the increase in EU work was "likely to continue" but acknowledged the potential for risks associated with Brexit to become a factor.
Chipperfield director William Prendergast said that the worldwide fallout from covid-19 had not affected the practice in any major economic way.
"Working from home has been successfully achieved with very little impact on current projects," he said.
"In 2020 we expect turnover to be in the region of £9m and we already have secured work in 2021 of 78% of 2020 turnover."
Chipperfield, which employed 79 people during the period, said per-head architect fees were up 9.6% on the previous year to £155,721.
Last month, David Chipperfield was made a Companion of Honour for services to architecture, one of the highest honours possible to bestow, and which can only be held by a maximum of 65 living people at one time.
Its scheme for Qatari Diar to turn the former US embassy at 30 Grosvenor Square in London into a luxury hotel is finally due to start on site next month when Multiplex begins work on the £400m main construction contract.