Training provide gave collapsed contractor more money than any other firm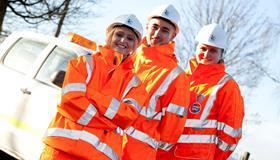 Carillion was given £7.3m by the Construction Industry Training Board in the year leading to its collapse – £600,000 more than any other company.
The CITB revealed in its annual report, published yesterday, that the failed contractor's training arm CITC was given just over £5m for taking on apprentices, plus an additional £2.2m for upskilling and other training.
CITB paid grant money to Carillion up until 15 January, the date the firm went into liquidation.
Sarah Beale, chief executive at CITB, said: "CITC received the majority of funding from CITB as it was a major trainer of apprentices."
"The other, smaller sum was paid to Carillion via CITB's grant funding. This figure was granted under the CITB funding process which is fair and robust, and is in line with other major levy-paying contractors."
Carillion's collapse meant 1,148 apprentices were suddenly without an employer, leaving the CITB to offer firms an adoption grant for every ex-Carillion apprentice they took on. Companies are able to claim £1000 for every ex-Carillion apprentice they employ: £500 immediately and £500 after three months.
The CITB said it has helped 775 ex-Carillion apprentices find new employment, and has so far paid out £412,500 in adoption grants to firms.
In a foreword to the report former CITB chairman James Wates, who was at the helm for the reporting period, said: "CITB has come a long way. I saw this clearly in the early part of 2018, when its rapid response to supporting Carillion apprentices was exemplary and illustrated that with the right focus and mind-set, the organisation can be agile, flexible, and deliver for the industry."
In addition to Carillion, CITB provided funds to 13 other construction companies, with Kier receiving £6.7m, Laing O'Rourke getting £5m and Balfour Beatty being handed £4.5m. In total CITB spent £400m on training and development in the past 15 months.