Initiative includes contractors Laing O'Rourke, Morgan Sindall and Multiplex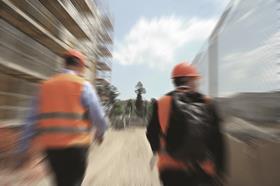 The Construction Industry Training Board has committed £500,000 to train mental health first aid instructors to improve the wellbeing of UK construction workers.
The funding has been awarded to Building Mental Health – an industry initiative including Lendlease, Mace, Multiplex, Morgan Sindall and Laing O'Rourke – via the CITB's Flexible Fund.
The project's objective is to have 156 construction Mental Health First Aid (MHFA) instructors fully-trained and operating by September 2019, with a minimum of 2,500 on-site mental health first aiders to be trained by 2020.
Geeta Nathan, the CITB's head of economic analysis, said: "The mental health and wellbeing of construction workers is one of the biggest issues our industry is currently facing. In 2016/17, the sector lost 400,000 working days due to stress, anxiety or depression – the equivalent of losing 1,600 full time workers each year.
"Given the stigma this subject faces, it's so important that we lead the way in shaping a culture change. Building Mental Health's training initiative will see 156 construction workers becoming mental health first aid instructors, with those 156 instructors by the end of 2020 having trained a minimum of 2,500 mental health first aiders."
Building Mental Health will work with MHFA England and use the funding to deliver 13 MHFA instructor courses for construction, with each course taking up to 12 candidates.
The first of the 13 courses began this month with the remaining 12 scheduled to take place over the next 18 months.