Jewry Street development will have 311 guest rooms and rooftop restaurant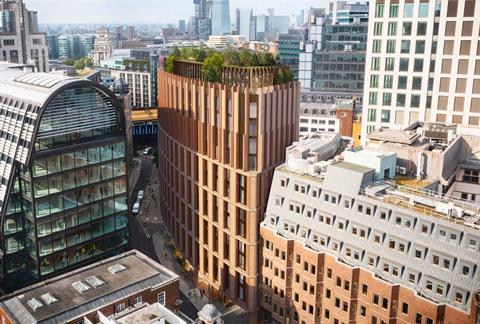 City of London planners have approved Sheppard Robson-designed proposals to replace a 1950s office building near Aldgate with a 15-storey hotel.
The practice's proposals for RP Assets – owned by Austrian hoteliers Rudolf and Christian Ploberger – received the backing of members of the City's planning and transportation committee at their meeting last week.
The Plobergers said their proposals would contribute to the City's leisure and tourism offer – with 311 hotel rooms, a café/bar on the ground floor and a rooftop restaurant, both open to the public.
The development will also house a co-working space – with free and discounted use of podcasting studios, meeting rooms and event spaces offered for community and educational purposes – as well as proposals for a cultural hub.
City planners said that to reduce the carbon impact of the scheme, the development would retain part of the existing basement and ground floor levels, including partial reuse of floor slab, columns and foundations.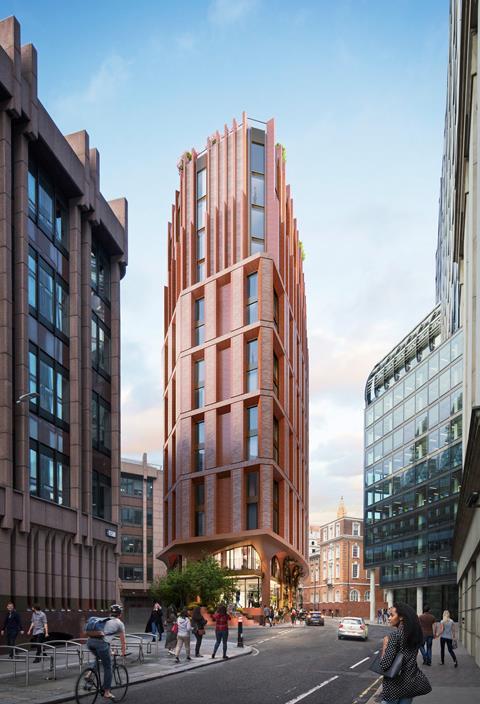 They said the scheme was targeting a BREEAM sustainability rating of "excellent" and that it would achieve a 54% reduction in operational carbon emissions.
A report to the meeting said Sheppard Robson's plans would deliver 11,221sq m of new floorspace, almost doubling the current building's 5,770sq m gross internal area.
Planning and transportation committee chair Shravan Joshi said delivering new hotel accommodation had an important role to play in the corporation's long-term development plans.
"Attracting UK and international visitors with a vibrant leisure and tourism offer is at the heart of the City's recovery," he said.
"We also want to provide flexible spaces for SMEs, start-ups and community and cultural uses, complementing our world-class financial and professional services sector.
"Sustainability has been a core consideration of this scheme, which will boost tourism and provide a boutique co-working space to meet the changing needs of businesses."
A spokesperson for the Plobergers said the development had exciting potential to contribute to the "reimagination" of the eastern part of the City as a "more sustainable and vibrant place of economic and social activity".