City of London Corporation points to new breed of tenant as 'iconic' buildings take shape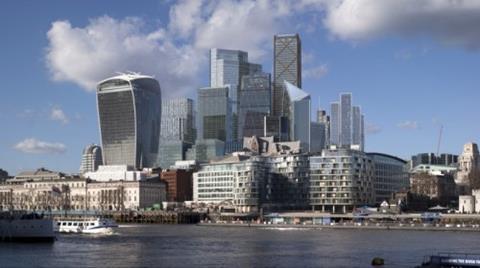 The City of London Corporation has highlighted more than a dozen developments in the Square Mile which it claims will transform the area's skyline and offer viewing galleries to the public.
Six of the 13 upcoming developments will have free public viewing space: 22 Bishopsgate (TwentyTwo), 120 Fenchurch Street, 6-8 Bishopsgate, 1 Leadenhall Street and 1 Undershaft, which will also host a dedicated Museum of London gallery at the top of the building.
The corporation said it had also included 'off-site consolidation' – where deliveries have to be sent to another location to be collected – in the planning process for TwentyTwo in order to reduce congestion in areas surrounding the development.
And with an eye on the potential outflow of financial services firms in the wake of Brexit, the corporation said more small and medium-sized businesses and media groups were choosing the City as their base.
As of September 2017, there was nearly 1.4 million square metres of office space being built in the Square Mile, with the potential to accommodate 85,000 workers. The corporation said this compared with 1.22 million square metres in March 2016, months before the vote to leave the European Union.
Chris Hayward, chairman of the corporation's planning committee, said the scale of development underway was "unprecedented".
"The City's occupier base is becoming more dynamic, with SMEs and media companies choosing the Square Mile as their home. I am particularly proud that we are able to make available economically inclusive spaces with free public viewing galleries in City skyscrapers.
"Over the next thirty years I expect that we will need to deliver office space for up to 100,000 extra City workers. Therefore iconic buildings such as TwentyTwo will lead the way in ensuring the City remains competitive as a leading financial centre."
One of the latest additions to the area's skyline, KPF's 'Scalpel' building is expected to top out this week.
Final steelwork on the 39-storey block, at the junction of Lime Street and Leadenhall Street, is due to be in place in the coming days.