Brian Martin had been responding to query on "poorly drafted" clause in official guidance which appeared to permit use of combustible cladding in tall buildings
An ambiguous reply by a senior figure at the housing ministry to a question on whether ACM panels could be used in tall buildings was a typical response to fire safety queries, the Grenfell Inquiry was told.
Building Research Establishment (BRE) scientist Sarah Colwell said she was "used to seeing the style" of Brian Martin's non-committal explanation of a confusing passage in official guidance dealing with cladding systems.
Thursday's hearing was shown an email between Nick Jenkins, of cladding supplier Euroclad, to Martin seeking clarification on whether ACM cladding panels could be used on buildings taller than 18m. Martin was the policy lead for building regulations at the ministry.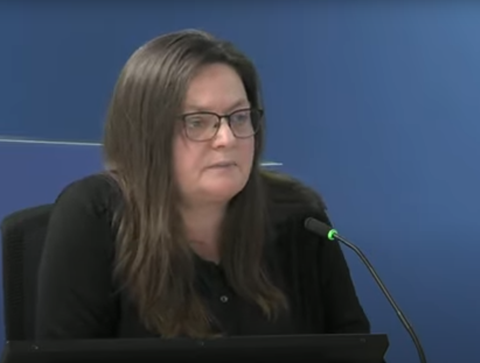 Building regulations on cladding systems stated at the time that the fire standard of "limited combustibility" only applied to "filler" materials, which was taken by many in the industry to mean materials used to fill gaps between insulation rather than the core of cladding panels.
Inquiry to the counsel Richard Millett QC said this month that the "poorly drafted" clause had led to a "10-year legacy of misunderstanding by the UK construction industry".
Jenkins had initially sent his query to Colwell in January 2016, explaining that ACM panels "burn quite efficiently" and that he was aware of many tall residential buildings in the UK where the panels were being installed alongside combustible insulation materials.
Colwell then referred Jenkins to Martin, telling the inquiry that the housing department would be able to "take action more widely".
Jenkins forwarded his email to Martin, adding: "This matter is currently the topic of much discussion in the construction industry and, if one thing is evident, it is that there is much confusion and misunderstanding."
Martin's response to Jenkins, in February, said: "I think the core of an ACM panel could reasonably be considered to be a 'filler'.
"So, unless the core material meets the 'rules', then the [guidance] suggests a full-scale test.
"However, if the designer and building control body choose to do something else, then that's up to them."
Colwell was asked by counsel to the inquiry Kate Grange QC what her reaction was to Martin not being able to give a "definitive answer" to the question. Colwell replied that the email was "very much the style" of Martin's responses.
Asked if this was typical of the style in which Martin would respond to these kinds of queries, Colwell added: "I believe so. He… I can't speak for him in the terms of how he writes, but that is typical of the type of response I had seen."
Colwell, who admitted that she was "surprised" when reading Jenkins' original email alerting her to the use of ACM on tall buildings, was also asked why the BRE did not put out a statement to the construction industry alerting it to the dangers of using ACM.
She said it was "not a route that BRE had taken in those circumstances".
Grange said: "Why don't we see presentations by the BRE, articles by the BRE?… why don't we see anything from the BRE about the dangers associated with ACM PE, particularly from this point onwards, once – you know for sure at this point that it is being used on tall buildings".
Colwell said: "We spoke where we were invited to speak."
Earlier, the inquiry was shown an email exchange between David Metcalfe, director of the Centre for Window and Cladding Technology, an industry body which provides guidance on facades, and Stuart Taylor of facade engineer Wintech.
Taylor had been asking for advice on what cladding panels were compliant in a cladding system under official guidance.
Metcalfe replied that the ambiguous clause in the building regulations which referenced "filler" material "makes no reference to cladding panels… and the current view is that [this] does not apply to such materials".
He suggested that the clause was "very poorly written and misleading, and needs clarifying ASAP", adding: "I am very sorry that I cannot give you a definitive answer − the more we look into the fire regulations, the messier it becomes.
"What is clear is that further guidance is needed."
The inquiry continues.