Contractor beats Bam to the top spot after winning £300m port scheme in Liverpool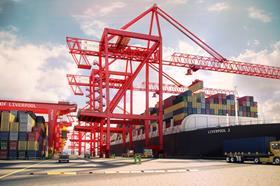 Lend Lease jumped to the top of the contractors' league table for September after winning a major infrastructure scheme worth £300m.
Lend Lease secured the top spot thanks to a contract to build a deep-water port in Liverpool - known as Liverpool 2 - for client Peel Ports, reported in Building last month.
Bam climbed to second place after it won a hat-trick of major schemes, including a new football academy for Manchester City football club, worth £88m; the Duke of York Academy in Dover, worth £24m; and the refurbishment of Brynmor Jones Library for the University of Hull, worth £17m. Neither Lend Lease nor Bam featured in the August top 10.
Meanwhile, Bam, ISG and Willmott Dixon filled the top three spots of the contractors' league table that excluded civils contracts.
The news came as the CPA/Barbour ABI construction index rebounded slightly after four consecutive months of decline. The index, which measures contract awards and uses a January 2010 base of 100, hit 110 for September - up from 107 in August.
The result follows the latest construction output figure from the Office for National Statistics (ONS) - released last week - which showed output in August was down 11.6% on August 2011 and dipped 0.9% from July.
The ONS figures indicated the largest year-on-year falls were in new private commercial work, down 17.2%, and new public work excluding infrastructure,
down 18.6%.
Year-on-year, all areas of work declined apart from repairs and maintenance on public housing, which was up 1.6%, according to the ONS.