Concerns over access to labour once UK leaves EU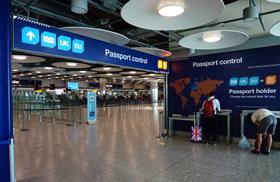 Construction leaders have met with immigration minister Caroline Nokes to discuss how proposed immigration rules post-Brexit will hit construction.
Members of the Construction Leadership Council's skills group, which is led by Mace boss Mark Reynolds, said while Nokes was receptive to their suggestions, no firm commitments were made.
Discussions with the Immigration Minister centred around four areas:
1) The length of the temporary workers visa scheme and whether it can be 24 months instead of 12.
2) The qualification levels required for the new Tier 2 visa scheme being reduced from Level 3 to Level 2.
3) The salary threshold to qualify for the Tier 2 visa scheme being reduced from £30,000 to between £24-26,000.
4) The use of a 'Clearing House model' for visa sponsorship to take account of the high number of micro and small businesses in construction.
Reynolds said: "Getting the UK's future immigration system right is critical to the construction sector's ability to deliver the important projects and programmes that the country needs.
"The CLC will continue to work with government and challenge them to ensure our industry is not adversely impacted as we leave the European Union."
The meeting follows on from a discussion organised by the CLC in the middle of April with Mark Doran, deputy director for immigration strategy, and Paul Regan, head of migration and policy, at the Home Office.
The UK has already postponed its exit from the EU twice already, with the new departure date now set for 31 October.
Downing Street has said the latest vote on the EU withdrawal agreement – which has already been voted down three times – will take place the week beginning 3 June.