NHS trust has own team in place at hospital near Birmingham to ensure contractor meets standards following Carillion collapse
The NHS trust responsible for the Midlands hospital left in limbo when Carillion went into liquidation has revealed that it has its own experts monitoring the replacement contractor.
Despite having hired Gleeds as an independent project manager, Sandwell and West Birmingham Hospitals NHS Trust, which is the client on the Midland Metropolitan Hospital in Smethwick, is making sure that its own team is also keeping an eye on Balfour Beatty's work.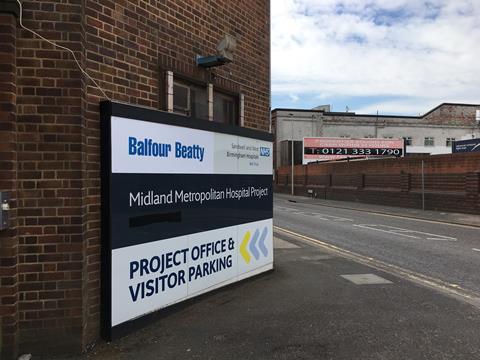 The trust said in a report: "While Gleeds provides expert project management of the construction contract, we retain a trust-side architectural and engineering team to ensure that our contractors meet standards."
The report, which was published ahead of the trust's first board meeting of the year, said it would also be responsible for commissioning and equipping the building.
Work on the hospital was halted for almost two years following the collapse of Carillion. After months of waiting it was finally replaced by Balfour Beatty, which signed a £267m deal last month to carry out the construction.
Gleeds has also been brought in to project manage work being carried out by Laing O'Rourke at the Royal Liverpool, the other hospital left hanging by Carillion's collapse.
The trust revealed that the board wants monthly reports on progress from Balfour Beatty. The report said: "This process worked well with Carillion and identified up-stream the MEP [mechanical, electrical and plumbing] issues we faced."
Balfour has carried out some remedial work at the Midland Met over the past year, with main work expected to restart this month.
The trust is hoping to open the hospital by spring 2022, in time for the Commonwealth Games in Birmingham.