The government has been criticised for not explaining how it will boost road building as part of its mid-term review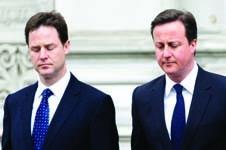 The government had been expected to back the use of tolls to fund highway investment when it announced its mid-term review on Monday but critics said there was nothing new for the road construction industry to savour.
In a joint statement before the launch, prime minister David Cameron and deputy prime minister Nick Clegg said: "Today, at the half-way point in the parliament, we are taking stock of the progress we have made in implementing the coalition agreement that we signed in May 2010.
"But we are also initiating a new set of reforms, building on those already underway, to secure our country's future and help people realise their ambitions."
John Cridland, director general of the CBI, said: "Growth-boosting measures like house, road and rail building are getting too bogged down in the planning and procurement process.
"We don't need a flurry of new announcements, but we do need to see the coalition's ideas translated into action now."
He said the government should introduce a Regulatory Asset Base (RAB) model, which is currently used to govern the utilities sectors, to drive investment in roads.
Alasdair Reisner, director of external affairs at the Civil Engineering Contractors Association, said: "Our roads require immediate investment certainty. CECA has campaigned for the government to consider all options at its disposal to avert a roads funding crisis, and we would have liked [this week's] review to have clearly signposted what the government is going to do to achieve this."