Fire union wants material outlawed on all buildings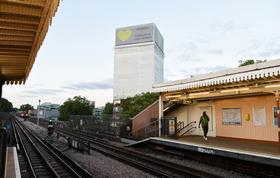 Housing secretary James Brokenshire's ban on combustible cladding has been met with mixed reviews by fire experts.
Speaking at the Conservative party conference on Monday, Brokenshire confirmed the government would be outlawing the use of combustible cladding on all new residential buildings above 18m, as well as schools, care homes, student accommodation and hospitals.
He said: "I will change the building regulations to ban the use of combustible cladding for all high-rise residential buildings, hospitals, care homes and student accommodation."
The ban will to be applied to buildings where materials have already been fitted.
But many said Brokenshire's proposal did not go far enough.
Gary Strong, RICS global standards director, and chair of the International Fire Safety Standards Coalition, said: "This important first step of banning combustible cladding for new higher risk buildings is welcomed but the problem remains of existing buildings and those buildings with high risk profiles under 18m."
And Matt Wrack, Fire Brigades Union general secretary, said: "These measures do not deal with the existing cladding on nearly 500 buildings across England where people live and work every day. The government's proposals only apply to buildings over 18m high…when they should apply to all buildings, whatever their height or use. They continue to allow A2 materials, when they should permit only the highest standard of A1."
Last month it was revealed that a majority of responses to the government consultation on banning the use of combustible cladding on high-rise buildings had backed the move.
The consultation was launched after Dame Judith Hackitt's review of Building Regulations and Fire Safety fell short of proposing a ban on the use of combustible cladding. Her review was in response to last year's Grenfell Tower fire tragedy, which claimed 72 lives. Combustible cladding has been blamed for the rapid way fire spread at the west London tower.