Demand for commercial space expected to increase as rents and availability fall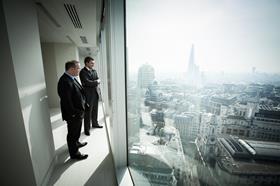 Occupier demand for commercial space is rising at its fastest rate since 1998, according to the RICS' latest commercial market survey.
Over the second quarter of 2015 commercial rents rose at their fastest pace since the survey by the RICS began in 1998. Almost half (46%) of respondents forecast higher rather than lower rents. Up to 50% of London respondents believe commercial property is now 'expensive', compared to 5% across rest of UK, while 46% of contributors thought that a Brexit from the EU would have "significantly negative" implications for commercial real estate.
The survey also found that available space fell for the ninth successive period, which is expected to add further pressure on capital values, especially in London.
Simon Rubinsohn, RICS chief economist, commented: "The results of the latest survey suggest the price of commercial real estate will continue to move higher over the next twelve months and quite possibly by another ten per cent.
"Fortunately, the strength of the occupier market is providing some underlying support for the market. Indeed, the feedback we are getting from around the country tells us that the economic expansion is continuing to broaden out with both tenant demand, and just as significantly, investor interest, rising in all areas."

Regional view
London: Charlie McClean, London, C J McClean Associates Ltd,
I hope for the sake of London's office occupiers that we are nearing the peak of the market, as most cannot contemplate having to pay the necessary rents required to even stay where they are. But with little supply and high demand, unless there is something cataclysmic on the horizon (which would also regrettably effect their businesses), I cannot see rents falling or even levelling out in the short term. As one Landlord agent recently put it to me: "it is now our time, and we will have our pound of flesh".
London: Sydney Sibanda, London, Gleeds,
The office market should cool off in the next couple of years. Not sure what the full extent of today`s flexi working will have on the demand for office space. Not too long ago if Company X had 10000 employees it needed 10000 desks. Now with advances in IT, Company X does not necessarily need 10000 desks. High street retail continues to struggle and there seems to be no let off from the Government in terms of business rates. And most councils are still refusing to budge on the parking issue. For a country which is predominantly service sector based, we do seem to have a isproportionate amount of industrial space. A lot of this has lay vacant for a long time and really needs to be redeveloped into residential or mixed use schemes.
South East: James Waghorn FRICS FCIArb, Maidstone, Martine Waghorn Chartered Surveyors
With the continued loss of offices to residential, there has been an increase in demand for offices in Maidstone from tenants being given notice to quit. Whilst positive for maintaining and possibly enhancing the value of existing stock, the lack of supply is a potential problem going forward.
North East: Kevan Carrick, Newcastle Upon Tyne, JK Property Consultants LLP
The market is improving but we need an increase in demand and a degree of speculative development for the Grade A city centre office and industrial sectors to see marked improvement.
North West: Paul Marshall, Rochdale, Bolton Marshall,
The market in the north east quadrant of Greater Manchester is showing signs of continuing recovery, particularly in the industrial sector. A shortage of good quality space coming onto the market is resulting in an upward movement in price levels, in such towns as Rochdale, Oldham and Bury. The office sector does, however, remain relatively depressed due to limited demand.
Scotland: Alan Gilkison, Glasgow, Ryden,
The market in the Greater Glasgow area has acute shortages of supply particularly for space from 15,000 to 60,000ft². There is no active development and little prospect of its early return due to the perceived development risk caused by rising construction costs and the uncertainty of securing the necessary higher rents which must be at least 15% above current prime levels. A pre-let market will emerge and is needed to encourage speculative development.
South West: Andrew Kilpatrick, Swindon, Kilpatrick & Co
The removal of electoral uncertainty has resulted in improved activity in Swindon's commercial property market. Further vacant office conversions to residential are continuing to reduce town centre office stock. There is a growing shortage of Grade A space in Swindon. H & M have relocated to a 20,000ft². store in The Parade, the largest retail letting for some time.
Source: The RICS