Developers and contractors report increase in commercial work after weaker growth in August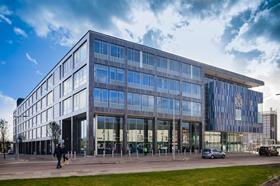 Growth in commercial development activity bounced back strongly in September after hitting a fifteen month low in August, a survey by estate agent Savills has revealed.
The Commercial Development Activity Index recorded a reported a net balance of 24% of developers and contractors reporting a growth in activity in September, up from 12% in August.
The sharpest rise in activity was in the private new build market which recorded a net balance of 25%.
However, public office activity fell to a net balance of -5% down from -3% in August.
Simon Collett, head of building and project consultancy at Savills, said the "strong rebound" from the "summer lull" was "expected".
He added: "Office activity, particularly outside the South East, reported the strongest rebound as occupational demand and developer appetite continues to pick up pace."
When asked about the prospect for the future however developers and contractors were less optimistic than they had been for 15 months.
A net balance of 16% of respondents reported that the expected commercial work to increase in the next three months, down from 19% in August.