Brexit uncertainty and weakness in demand blamed for slump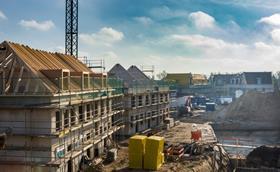 Construction activity continued to fall last month with all three categories of work heading south in September.
The drop was the second fastest since April 2009, according to the bellwether IHS Markit/CIPS UK Construction Total Activity Index.
New work inflows fell substantially in September, with the index recording a score of 43.3 last month, down from the 45.0 mark posted in August.
Commercial activity led the decline, according to IHS Markit's latest construction figures, followed by civil engineering, while housebuilding activity – usually a sector stalwart – recorded a fourth successive monthly decrease.
The industry was "mired in a downturn" at the end of the third quarter, according to IHS Markit.
Respondents to IHS Markit's latest survey said the slowdown was being caused by "Brexit uncertainty and the resulting hesitancy caused among clients, as well as a general underlying weakness in demand".
Despite the gloomy state of the sector IHS Markit said firms were "mildly optimistic" that output volumes would pick up in the coming 12 months.
But Mark Robinson, Scape Group chief executive, said the latest figures were "incredibly concerning", and parallels between the slowdown in activity following the financial crisis could not be ignored.
"We are facing significant economic upheaval with no end to the uncertainty in sight and the construction sector is responding accordingly, with both public and private sector clients exercising caution.
"We desperately need clarity from the government on their legislative programme and detail on whether the EU is going to accept [the government's] proposed deal. Provide us with this clarity and businesses will finally be able to make decisions on projects that have been paused and pushed to the side."
Brian Berry, chief executive of the Federation of Master Builders, said the government can't afford to lose any more capacity in the industry after Brexit.
He added: "The PMI data picks up on material shortages and bottlenecks already, even before leaving the EU, and this is likely to be a major concern in the event of a no-deal."
And Jan Crosby, KPMG's UK head of infrastructure, building and construction, said housebuilding's slowdown was a major concern.
"The poor performance in residential building is particularly discouraging. Given its status as the bellwether of the sector, its continued decline shows the strain the market is under."