Latest Markit/CIPS survey shows fourth consecutive month of declining activity and the lowest level since October 2009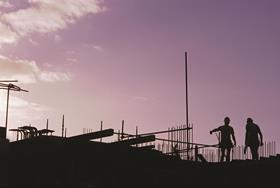 Construction activity fell for a fourth consecutive month in February, dropping to the lowest level since October 2009, according to the latest Markit/CIPS survey.
The headline index recorded 46.8 in February, down from 48.7 in January, signalling to fastest pace of contraction since October 2009. The index, which is drawn from a survey of construction purchasing managers, runs from 0-100, with any score below 50 representing a fall in activity.
New orders also declined for the 9th month running - the longest continuous period of decline since 2008-9.
The report said the marked fall in construction output reflected a return to declining levels of commercial building work and a sharp decrease in civil engineering activity.
It said commercial construction decreased at the steepest pace for just over three years, while the latest reduction in work on civil engineering projects was the fastest since October 2009.
The full Markit/CIPS release is attached (see below).
Civil Engineering Contractors Association (CECA) director of external affairs Alasdair Reisner said: "While care must be taken not to put too much weight on one set of statistics, the steep decline in the CIPS figures should raise a note of concern.
"The construction sector is fundamental to the government's recovery strategy, and yet it currently languishing in an anaemic condition, showing only weak or negative growth.
"If the chancellor is to achieve his goal of kick-starting growth through infrastructure provision, it is vital that he takes the necessary steps to increase workloads and unblock smaller local infrastructure projects without delay."