Speirs + Major, Lovell and the Green Investment Board are among the companies announcing appointments this week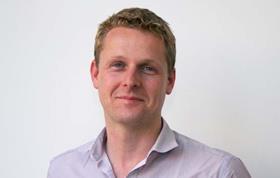 Clients
Grosvenor has appointed Craig McWilliam executive director in charge of the London estate.
Catalyst has appointed Austen Reid head of new business.
Architects
Speirs + Major has appointed Andrew Howis (pictured) managing director.
Contractors
Clugston Group has appointed Andrew Walker as a non-executive director.
Lovell has appointed Tony Wiggins business development manager for its southern region and Leigh-Anne Francis strategic development manager for the firm's Eastern region.
Organisations
The Construction Industry Training Board has appointed William Burton as interim chief executive. Burton replaces out-going chief executive Mark Farrar.
The Green Investment Bank has appointed Christine Brockwell managing director of offshore wind and Gregor Paterson-Jones managing director of non-domestic energy efficiency.
Suppliers
Mabey Sales, a subsidary of plant hire firm Mabey Hire, has appointed Richard Hinckley business development manager.