Wates among first main contractors to start lateral flow testing in covid hotspots
BuildUK is pushing for the government to include construction in its asymptomatic testing programme.
Earlier this week, health secretary Matt Hancock said the government was expanding its rapid testing programme to all local authorities – with a focus on testing those who had to leave home to work.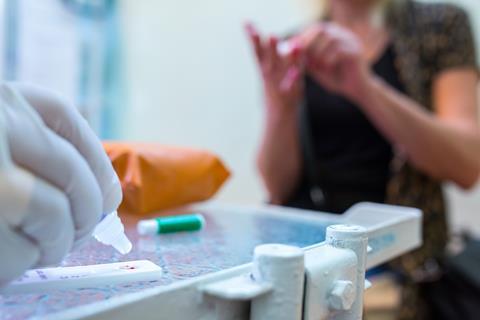 He said: "We are now expanding this offer to every local authority across the country and asking testing to be targeted on workers who cannot work from home during this national lockdown, while asking employers to work with us to scale up workforce testing."
BuildUK said it was imperative the programme is rolled out to include construction as quickly as possible.
A spokesperson said: "Widespread testing is vital to protect those who cannot work from home, including construction workers.
"Build UK welcomes the recent expansion of the asymptomatic testing programme and we have been talking to government about the potential for construction to be the next sector on this programme."
Meanwhile, Wates has begun lateral flow testing of workers on some of its sites in areas where coronavirus cases are particularly high.
A company spokesperson said: "In light of the recent increase in infection levels, our teams have been exploring a number of additional measures, including piloting rapid testing for covid-19 for colleagues and supply chain employees at a handful of sites in areas where case numbers are particularly high."
There have been some questions around the reliability of lateral flow tests, which take just 30 minutes to give a result. While there has been no suggestion the tests return false positives they have returned negative tests for people carrying the virus.
Wates' spokesperson echoed support for the government to expand its testing programme to construction workers required to go to work.
She said: "We support the government's commitment to keeping our economically vital sector open and welcome the recent statements from [Matt Hancock] in which he indicated that testing would be expanded, targeting workers who cannot work from home."
The health department has been contacted regarding plans to extend the asymptomatic testing programme to construction.
Yesterday it was revealed London firm Pimlico Plumbers is preparing to introduce a "no jab, no job" policy, meaning all of its workers will have to be vaccinated against covid-19.
Charlie Mullins, Pimlico's founder and former chief executive, said the company's lawyers were in the process of drafting new employment contracts for its 400-strong workforce making it a requirement to be vaccinated.
But Jonathan Chamberlain, employment partner at law firm, Gowling WLG, warned making employees get jabs would leave them open to claims.
He said: "Employees can refuse and, if they get fired as a result, they're likely to have strong claims against their employer, potentially some very expensive ones. As the law currently stands, not even the government can insist the general public get vaccinated so the courts are unlikely to have much sympathy with a private employer who tries to force their staff to have the jab."