Chiefs of Morgan Sindall, Wates and JCB among 100 who sign letter supporting Cameron and Osborne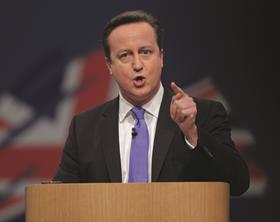 The chief executives of top construction firms Morgan Sindall, Wates and JCB have joined over a hundred other business leaders in a letter commending the Conservative-led government.
In a letter to the Daily Telegraph over 100 business leaders including Bob Dudley of BP and Tidjane Thiam from Prudential were joined by James Wates, chairman of Wates, the chief executive of John Sindall, John Morgan, and JCB chairman Lord Bamford as signatories to a letter that states the Conservative government has been good for business and "pursued policies which have supported investment and job creation".
The letter states: "David Cameron and George Osborne's flagship policy of progressively lowering Corporation Tax to 20% has been very important in showing the UK is open for business. It has been a key part of their economic plan.
"The result is that Britain grew faster than any other major economy last year and businesses like ours have created over 1.85m new jobs."
Labour dismissed the letter saying it would cut business rates for smaller firms. Rachel Reeves, Labour's shadow work and pensions secretary, said that the letter itself didn't even mention Labour.
Speaking on Sky News Reeves said: ""The letter to The Telegraph doesn't mention the Labour Party at all and only mentions one policy, corporation tax … but also it doesn't talk about smaller businesses who will benefit from our business rates cut."
UKIP attacked the Conservatives for promoting the interests of rich corporate donors. A UKIP spokesman said: "So the Tories are crowing that some of their big corporate donors really like their big corporatist policies? You couldn't make it up. Cameron's now actively promoting the fact that he doesn't stand up for ordinary Brits, just his rich mates."
The letter in the Telegraph comes as the Office for National Statistics revealed that the Conservative coalition government had presided over the worst productivity record of any government since World War II. ONS statistics showed that output per worker fell in the last three months of 2014, with output still lower than in 2007 before the recession.
The ONS said: "These estimates show that the absence of productivity growth in the seven years since 2007 is unprecedented in the postwar period."
Read the full letter in the Telegraph