Industry responds to chancellor George Osborne's challenge to build HS2 on time and below budget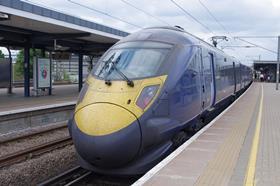 Bosses of some of the UK's biggest construction firms have "accepted the challenge" from George Osborne to build HS2 on time and below budget.
Last weekend, Osborne defended government support for the scheme and said "sometimes" the UK construction industry could deliver big complex schemes cheaper than expected.
In a letter to the Telegraph today, the heads of Laing O'Rourke, Arup, Atkins, Skanska, Balfour Beatty, Mott Macdonald and Kier all pledged to deliver the first phase of project on time and below the £17.16bn budget.
It said: "We gladly accept the challenge of completing Phase One of HS2 on schedule – and for less than the government's target of £17.16bn."
They attacked opponents of HS2 for quoting unrealistically large cost figures. "Funding secured for HS2 rightly includes a contingency – a responsible way to plan a project on this scale," they said. "Yet artificially inflated figures circulated by opponents recently in no way represent the outcome we expect."
The letter said that it was impossible to capture the full wider benefits of the HS2 scheme.
The bosses said they "applauded" the government's investment in infrastructure and HS2 to address the "capacity crunch" on the rail and road networks.
"Britain's construction sector delivered Heathrow Terminal 5, High Speed 1, and the London Olympics. Crossrail will undoubtedly be next," they added.
Full list of signatories
Philip Diller, chair, Arup group
David Tonkin, chief executive, Atkins UK
Andrew McNaughton, chief executive, Balfour Beatty
Paul Sheffield, chief executive, Kier Group
Anna Stewart, chief executive, Laing O'Rourke
Keith Howells, chair, Mott MacDonald
Mike Putnam, chief executive, Skanska UK
Nelson Ogunshakin, chief executive, Association for Consulting and Engineering