The UK economy grew by 0.8% in the third quarter of the year, helped by 2.5% growth in construction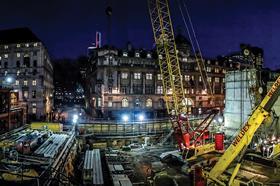 The UK economy grew by 0.8% in the third quarter of this year, helped by 2.5% growth in construction.
The latest growth figures from the Office for National Statistics showed overall economic output grew 0.8%, with all four main industrial groupings within the economy growing in Q3 2013 compared with Q2 2013.
Output increased by 2.5% in construction, 1.4% in agriculture, 0.5% in production, and 0.7% in services.
The figures showed GDP in Q3 was 1.5% higher compared with the same quarter a year ago, but was 2.5% below the pre-recession peak in Q1 2008.
Construction output grew 4.9% year-on-year, but is still 12.5% below the 2008 pre-recession peak.
Simon Rawlinson, EC Harris head of strategic research and insight, said the "strong performance of construction" was "an encouraging sign of growing momentum in recovery".
"However, as a result of a very weak start to the year, it is still not clear whether output in 2013 will show year-on-year increase to 2012," he added.
Noble Francis, economics director at the Construction Products Association, said the growth in construction output was primarily due to private house building, boosted by Help to Buy, and infrastructure, driven by work on Crossrail.
He said the figures showed construction "was a key contributor to UK economic growth in Q3 for a second consecutive quarter". "This adds to increasing optimism that the industry is recovering from its worst recession in 35 years," he said.
Michael Dall, lead economist at construction intelligence specialist, Barbour ABI, said the 2.5% growth was "significant, positive news for the UK economy".
He said July was a particularly strong month for construction, with growth of 2% compared with July 2012. "This summer was one of the strongest for the industry for some time," he added.
He said initial data for September was "looking strong, with a high number of orders and new starts, signalling that this positive growth looks set to continue into the autumn too".
"When you consider the challenges the construction industry has faced previously, it's clear that this is definitely a period of positivity.
However, this must be viewed with caution. The construction industry is still significantly below 2008 levels and growth must be sustained before we can decidedly say that we're out of the woods."