Anne-Marie Trevelyan held the post for less than nine months
Construction minister Anne-Marie Trevelyan has been named as the new trade minister as part of Boris Johnson's ongoing reshuffle. Appointments of junior ministerial jobs, which include construction minister, have yet to be announced.
Number 10 has confirmed that Kwasi Kwarteng, secretary of state for business, energy and industrial strategy, will stay in his post.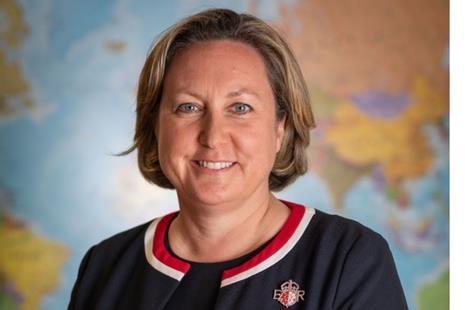 Trevelyan, who held the role of international development secretary before that department was merged with the foreign office last September, was the fifth construction minister in less than two years when she was appointed in January this year. She replaced Kwarteng, who held the job for less than a month.
Kwarteng was appointed when his predecessor, Nadhim Zahawi - who today became Boris Johnson's new education secretary - was moved to oversee England's covid-19 vaccine rollout.
Before Zahawi, the role of construction minister was held by current HS2 minister Andrew Stephenson for four months after he took over from Richard Harrington in April 2019.
Trevelyan oversaw the scrapping of the government's failed Green Homes Grant scheme for energy-saving retrofits to homes in March.
Trevelyan also backed the Construction Leadership Council's C02nstruct Zero plan for driving out carbon from the industry, which called on firms to use zero emission vehicles and low carbon materials.
Today's reshuffle has also seen Michael Gove replace Robert Jenrick as housing secretary.
Education secretary Gavin Williamson and justice secretary Robert Buckland have also been sacked, while former trade secretary Liz Truss has replaced Dominic Raab as foreign secretary.