Sharp falls in public sector and commercial work drag down construction output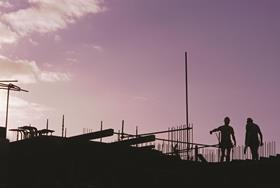 Construction output fell 4.7% in the three months to April, dragged down by sharp falls in public sector and commercial work.
According to the latest figures from the Office for National Statistics, comparing the three months to April 2013 to the same period in 2012, total output fell 4.7%, with total new work, excluding repairs and maintenance, down 5.8%, dragged down by a 17.3% fall in public sector work and a 8.8% drop in commercial work.
There was also a 2.8% decrease in repair and maintenance, when comparing the three months to April to the same period last year, mainly due to a 7.5% fall in private housing repair and maintenance
Total output fell 1.1% in April compared to the same month in 2012, and fell 6.5% month-on-month, with decreases in all sectors with the exception of private housing new work and repair & maintenance, which showed increases of 3.6% and 0.4% respectively.
Overall repair and maintenance decreased by 9.7%, mainly due to large falls in infrastructure and public housing repair and maintenance, which fell 21.6% and 18.5% respectively.
Graham Robinson, Pinsent Masons global business consultant, said: "Apart from the government's housing stimulus, the beleaguered construction sector is still very depressed and continues to tread on thin ice.
"Cuts in public funded construction, the construction industry's largest customer, are still continuing.
"The long-awaited spending on large capital projects is yet to materialise, but with even the government's Priority Building Schools Programme being cut back significantly, we expect more uncertainty and delay.
"Although we expect construction to grow from the end of 2013, it will be from a deeper than expected trough that will have significantly damaged the industry in the longer-term."
David Crosthwaite, an economist with construction and property consultancy AECOM, said the figures were "disappointing" and highlighted the "almost inexorable decline of construction output".
He said: "The only bright spot was growth registered in the industrial buildings sector, however it should be noted that this is currently the smallest sector by volume of activity.
"Over the recent past new work declines have accounted for much of the downturn but worryingly now even repair and maintenance output is showing signs of contraction.
"Construction output is now significantly lower than the previous lowest point during this recession, at the end of 2009, and in volume terms output levels are back to those last seen at the beginning of 1999.
"One begins to wonder how much lower construction output can go before some level of intervention takes place."
Richard Threlfall, KPMG UK head of infrastructure, building and construction, said: "While the sun has at least started to shine in the UK recently, the beleaguered UK construction industry remains under one miserable cloud. The only part of the industry looking forward to the summer are house builders, where new construction is being driven by market demand in London and the south-east and by the government's Help to Buy scheme elsewhere.
"However, there is a ray of light. Insolvencies in the last two quarters have fallen to levels last seen in 2007, and there is a growing confidence in the industry that work will start to pick up again, albeit slowly over the next few years.
"There is lot to be done to reverse the damage to the industry. With output at levels last seen in 1998, the industry's value has been reduced to what it was 15 years ago. What a tragedy."