Declines in repair and maintenance work and infrastructure activity contributed to downturn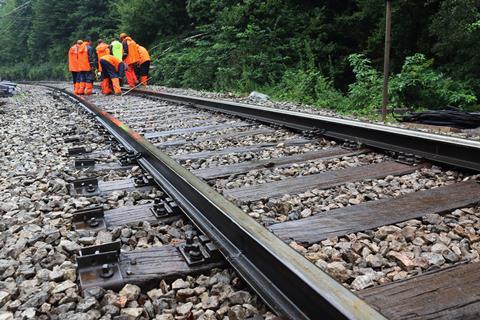 Overall construction output fell 1.2% in the three months to the end of July, fuelled by declines in repair and maintenance work and new activity, according to new data from the Office for National Statistics (ONS).
Output also dipped between June and July, down 0.9%, largely due to a 1.4% fall in new work.
The ONS said both the month-on-month and three-month on three-month periods fell for the fourth consecutive month in July 2017, although it added that despite this, construction output remained at a relatively high level.
"Construction output peaked in January 2017, reaching a level that was 24.9% higher than the lowest point of the last five years, January 2013.
"Despite falling in July 2017, construction output remains 21.0% above this level," it said.
But Arcadis head of strategic research Simon Rawlinson warned: "We anticipated that Brexit would begin to have an impact on key construction markets in 2017 and there are signs that uncertainty is now feeding directly into the opportunities available for contractors. It is essential that clients and contractors work together to get projects to site in order to maintain activity, employment and investment levels in the face of a challenging market."
All new work fell "markedly" in the second quarter, according the ONS, dropping to its lowest level in value terms – £11.8bn – since the start of 2014, driven by a decline in new housebuilding activity and other work.
The ONS said the most notable downward pressures on quarter-on-quarter growth came from private commercial work, down 15.6%, and new housing, down 4.9%.
Infrastructure activity fell for the third consecutive quarter, down 16.2%.