ONS figures show 0.9% fall in February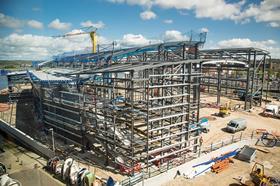 Output in the construction industry has defied analyst expectations to record a second monthly fall in February according to new figures released by the ONS.
Falls in new work and maintenance saw output in the construction industry fall a further 0.9% in February continuing the subdued start to 2015. All new work fell by 0.6% in the month, with sharp falls in infrastructure, which saw a 2.5% fall, and new private housing, which dropped by 1.6%.
According to the ONS Data, construction output fell 3.2% in the three months from December 2014 – February 2015 compared to the previous three months from September to November. Repair and maintenance and all new work decreased by 7.7% and 0.3% respectively.
Year on year the construction industry's quarterly output has virtually flat-lined according to the data, showing an increase of 0.3%, with new work increasing by 1.3% and maintenance down by 1.4%.
Commenting on the figures Stefan Friedhoff, managing director for construction at Lloyds Bank Commercial Banking said: "As is sometimes the case, the ONS readings feel out of kilter with other data, such as the closely-watched Construction Purchasing Managers' Index, which earlier this month revealed that confidence among firms in the sector is at its highest for almost a decade.
"This feels in line with sentiment from many players, as firms begin to emerge from the depths of the sustained recession by putting more problematic contracts behind them and adapting to the more intense operating environment.
"There is also the suggestion, encouragingly, that commercial construction is closing the gap on house-building which, buoyed by Help to Buy, has been the key contributor to output in the past couple of years."
Michael Dall, lead economist at Barbour ABI said: "It would be easy to hold up today's decline in output as evidence the economy is deteriorating, but while month-on-month volatility in construction figures should be noted, this rarely sets the pace for long term activity or annual growth.
"Our latest data shows that house building remains strong within the industry, with no signs that recent levels of output are going to tail off. In addition, the infrastructure sector which has performed poorly in recent months is at last showing some signs of revival.
"However, it is notable that in today's output figures commercial construction output slowed which is a concern given that it is traditionally the largest sector in the industry. Overall, while today's figures are disappointing there are reasons to be optimistic, particularly around growth in infrastructure."