Output grew by just 0.7% year-on-year in 2018
Construction output has experienced its weakest year-on-year growth since 2012, according to new Office for National Statistics data.
According to the latest ONS construction output update, there was just a 0.7% increase in output last year compared with 2017, which is the lowest year-on-year growth since 2012, when output fell by 6.9%.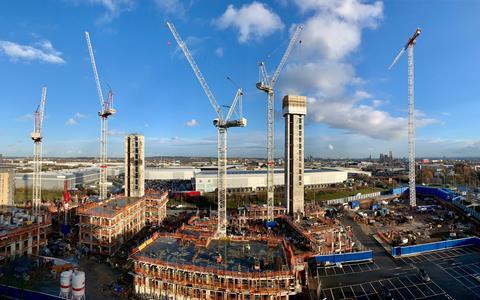 Output also fell by 0.3% in the last quarter of 2018, following an increase of 2.1% in quarter three, driven by a fall in repair and maintenance output, which was down by 2.8%.
According to the ONS, the decrease in repair and maintenance work was caused by drops in private housing and non-housing repair and maintenance output of 4.0% and 2.9% respectively.
Scape Group chief executive Mark Robinson said a strong performance in November and quarter three could have "hoodwinked" the industry into thinking it was "business as usual".
He added: "A sharp decrease in all work highlights the need for the government and local authorities to provide greater transparency on project pipelines to ensure business optimism does not dip as we head into 2019.
"We urge the government to rethink their approach on immigration, as the country needs to be as competitive and attractive to investment as possible as we hurtle towards [the Brexit exit date of] 29 March with no firm plan in place."
The figures also revealed that output in December 2018 fell 2.8% below the level seen in November, signalling the largest month-on-month fall in growth for all work since June 2012, when the figure dropped by 4.3%.
Clive Docwra, managing director of consultant McBains, said the sector needed certainty as it moved toward Brexit.
Docwra said: "These fears [over Brexit], coupled with longer running issues such as high import costs and skilled worker deficits, are now cutting through and impacting key investment decisions.
"The Brexit uncertainty will need clarifying soon if the sector is to push on and build the homes our country needs."
While construction output fell away at the tail-end of 2018, it wasn't all bad news for the sector, with figures revealing there was an 8.4% increase in the production of bricks compared to December 2017 – with an overall 7.9% increase year-on-year in 2018.
Tom Farmer of the Brick Development Association said: "Despite the current political uncertainty we are seeing no sign of the demand for new houses slowing down."
He said the sector's confidence was reflected in the fact that production had increased at Ibstock's new factory in Leicester, Forterra had announced plans to invest £95m in doubling the capacity of its Desford plant while brickmakers Ketley and YHM have announced investment plans to boost capacity over the next 18 months.