Overall GDP fell by 2.6% in November but construction ouput grew by 1.9%
Construction staged a dramatic recovery in November last year with output levels higher than before the start of the covid-19 pandemic, according to the latest ONS figures.
Output grew by 1.9% in November, which was 0.6% above the levels seen in February before the introduction of the first national lockdown.
It was the seventh consecutive month of growth in output since the record monthly decline of 40.7% seen in April 2020 at the peak of the first wave of the virus, and reverses the trend of slowing growth seen between June and October.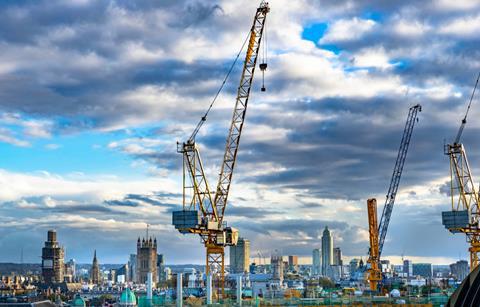 But a drop in GDP and continued uncertainty about the long-term impact of both Brexit and covid-19 are cause for concern for the sector despite the positive direction of movement in November.
Fraser Johns, finance director at Beard, said: "While we hope that the vaccine rollout and a Brexit trade deal in place should lead to less uncertainty broadly, we are still faced with new strains of the virus and a national lockdown, with the impact that has with schools closed and restrictions at every level.
"Realistically the fallout for businesses from Brexit could yet take months to fully understand which means an element of volatility in the short to medium term."
The November recovery was driven by a 3.5% increase in new work, with all sectors seeing growth apart from new public housing and other public projects, which slid by 2.4% and 2.8% respectively.
The increase came despite a 0.6% fall in overall repair and maintenance compared to October, with a 6% fall in private housing repair and maintenance dragging down an otherwise healthy sub sector which grew by 5% in public housing and 1.9% in non-housing.
But while overall construction output is higher than in February, it is still down by 0.3% on January 2020 because of adverse weather seen in February.
The figures were published alongside those for GDP in the wider economy, which showed that the UK is heading for a double-dip recession following the resurgence of covid-19 in autumn last year and the introduction of the second national lockdown in November.
Overall GDP fell by 2.6% in November, bringing an end to six months of consecutive growth over the summer as the economy had been recovering from the first wave of the virus.
Autumn's new lockdown restrictions brought GDP in November down to 8.5% below its pre-pandemic level, with analysts forecasting that GDP is likely to continue falling through the end of last year and the first three months of 2021 as the third national lockdown was imposed to contain the new variant of covid-19.