Work on civil engineering projects decreased for the first time in five months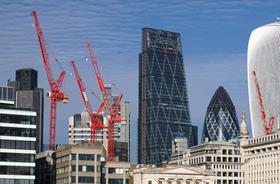 Output growth in the construction industry slowed down in August following a spike in July, with all three broad categories of activity recording a loss of momentum since the previous month, according to the latest Markit/CIPS Construction survey.
The Markit/CIP UK Construction index registered a score of 52.9 last month, down from the 14-month high of 55.8 in July.
Its the fifth month in a row the index has remained above the 50 'no-change' mark.
Commercial building was the best performing area of activity. This was followed closely by the housing market but the expansion of housing activity was the weakest since March.
Meanwhile, work on civil engineering projects decreased for the first time in five months. A number of survey respondents cited a lack of new work on infrastructure projects.
Tim Moore, associate director at IHS Markit and author of the IHS Markit/CIPS Construction PMI, said: "The construction sector slipped back into a slower growth phase in August, with this summer's catch-up effect starting to unwind after projects were delayed by adverse weather at the start of 2018.
"The degree of optimism reported in August remained constrained by external factors, including domestic political uncertainty, stretched supply chains and shortages of suitably skilled labour."
But Max Jones, global corporates relationship director for construction at Lloyds Bank Commercial Banking, said despite the fall there were reasons to be optimistic: "Even if the UK's current infrastructure pipeline may not be quite as bulging as some would hope, mega-projects like Heathrow, Hinkley Point and HS2 continue to offer quality work for firms right down the supply chain."
Mark Robinson, Scape Group chief executive, said: "Infrastructure investment remains absolutely vital. Successfully delivering Crossrail and HS2 is important for the long-term economic health of the country, but there are also many hundreds of smaller projects which could have a big impact on regional economies right now that the Government and Local Enterprise Partnerships (LEPs) can press ahead with to boost growth across the UK.
" The Government can help to alleviate the impact of Brexit on the construction sector and the economy by ensuring a strong pipeline of investment in these projects."
Companies said they were optimistic business activity would expand over the next year, but the degree of confidence eased to its weakest since May.
Survey respondents cited confidence about achieving organic growth through new project wins and geographical diversification, while Brexit uncertainty remained the main factor cited as holding back sentiment.