Output now declining year-on-year according to ONS data after sharp fall in August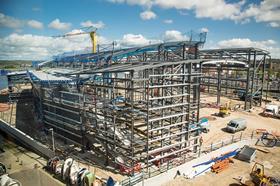 Construction output fell sharply in August, with the industry contracting year-on-year for the first time in 16 months, raising fears that the recovery across the industry could be set to stall.
According to the latest Office for National Statistics figures (ONS), construction output shrank 3.9% in August, compared to July, with output down 0.3% on August 2013, the first year-on-year contraction since May 2013.
The month-on-month data showed all sectors, except public new housing, declined, with the commercial sector down 5.6%, infrastructure down 6.5%, and private housing down 5.5%.
Repair and maintenance work also fell, down 2.5% compared to July, but showed slight growth of 0.3% year-on-year.
The ONS said the sharp month-on-month fall was in part to due to an upwards revision of July's figures, when zero month-on-month growth was revised up to 1.9%.
However, the ONS said the fall in output was consistent with the weak new orders data for the second quarter of the year, while the overall level of output still remains 9% below its pre-recession peak in the first quarter of 2008.
Mark Robinson, chief executive of construction procurement organization Scape, said: "This news should act as a wakeup call to both the industry and the government that more needs to be done to safeguard the construction sector's recovery.
"Ours was the industry hardest hit by the recession and greater attention needs to be placed on safeguarding the fragile growth we have seen over the last six years, which is currently under threat from the dual challenge of skills and materials shortages driving up prices."
Michael Dall, lead economist at construction analyst Barbour/ABI, said: "While all sectors, other than public housing, fell in August the longer term trends in the residential sector are still very encouraging.
"The other major sectors in construction however are not performing as well with infrastructure and commercial continuing to record declines in growth.
"It is vital for the industry that all of these sectors grow to ensure pre-recession levels of activity are achieved sooner.
"Recent positive figures on new orders for commercial projects, and increasing levels of business investment in the economy, should hopefully have a positive impact in the coming months.
"For these reasons while today's declines are disappointing the improving sentiment in the commercial sector in particular should start to boost output levels in the coming months."