New rules follow those announced for Scotland earlier today
Construction sites can stay open as the prime minister confirmed tonight that England would be plunged into a third national lockdown.
People will be ordered to stay at home until at least 15 February and advised only to leave once a day for exercise.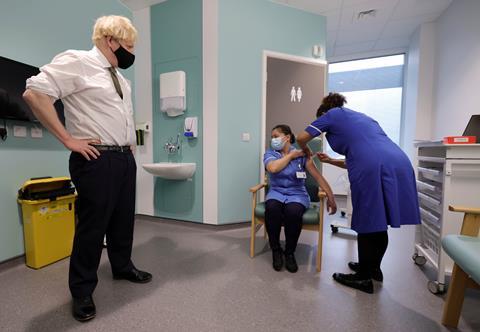 The new measures come into force from Wednesday morning – and voted on by MPs later that day – but prime minister Boris Johnson said businesses are being advised to close from tonight.
But construction sites will be told to carry on working, like manufacturing, while builders merchants have been classed as essential retail and allowed to stay open along with supermarkets and chemists.
Government guidance published alongside Johnson's announcement said keeping sites open was "essential to keeping the country operating and supporting sectors and employers".
Tradespeople can also continue to work in other people's homes while adhering to covid secure guidelines.
In addition, the housing market will remain open, with estate agents allowed to stay open and moving house allowed.
The new measures follow the emergence last month of a new variant of covid-19 which the government's scientists have found to be 50% to 70% more infectious.
Johnson added: "With most of the country already under extreme measures, it's clear that we need to do more together to bring this new variant under control while our vaccines are rolled out."
Earlier today, Scotland's first minister Nicola Sturgeon announced a similar lockdown which starts at midnight tonight.
Construction sites north of the border have been told they can remain open although they have been asked to "plan for the minimum number of people needed on site to operate safely and effectively".
Figures released earlier today showed there were 26,626 covid patients in hospital in England, up 30% on a week earlier. The peak of admissions in the first wave was 18,374 on 12 April but the country is now 40% above that level.
Johnson said across the UK, there were 80,664 positive tests on 29 December, with the case rate three times higher than at the start of last month.