Construction Product Association's latest forecast predicts growth of 4.8% this year and 5.3% next year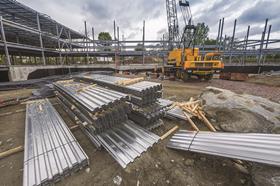 The construction industry is expected to grow by 23% by 2018, contributing £12bn to the UK economy, according to the latest forecast from the Construction Products Association.
The CPA's autumn forecast, published today, predicts construction output will grow by 4.8% in 2014 and 5.3% in 2015 - up from the 4.7% and 4.8% it forecast in the summer.
The CPA said output would jump by 23% by the end of 2018.
Other highlights from the forecast include:
Private housing starts expected to grow 18% in 2014 and 10% in 2015
The private commercial sector set to increase 3.7% in 2014 and 6.1% in 2015
Roads construction will rise 46.1% by 2018
Energy infrastructure is anticipated to grow 118.2% by 2018
Noble Francis, CPA economics director said: "Our forecasts reflect a welcome, recurring theme as growth continues and begins to broaden.
"Short-term activity is still led by private housing, infrastructure and commercial, and areas of public sector construction are showing the first signs of increasing strength.
"We believe the expansion will continue through 2018.
"Recovery is not a foregone conclusion however, and several important risks remain, primarily around the strength of the UK and Eurozone economies, the policy outcomes following the 2015 general election and the impact of any supply constraints such as the scarcity of labour and materials."