Fatality on extension originally planned to be ready for World Cup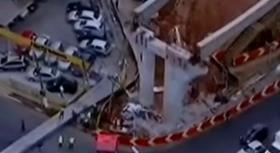 Part of an under-construction monorail system designed to extend the metro network in the Brazilian city of Sao Paolo has collapsed, killing one worker.
The victim was hit by a large concrete support beam that fell as part of the building work on a section of the line near Congonhas Airport, the Press Association reported.
It said the project was originally meant to be completed before the World Cup to help fans move around the city, however the government warned three years ago that the line would not be ready in time.
PA said an investigation into the cause of the accident was under way.