New BATJIC agreement will see rise of 2.5% this year and 3% in 2015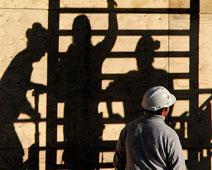 Construction union Unite has agreed a two-year pay deal with the Federation of Master Builders (FMB) that will see up to 200,000 workers receive an average 2.5% pay rise this year and a further 3% rise the next.
The Building and Allied Trades Joint Industrial Council (BATJIC) agreement is a sign of the improved confidence in the sector, following pay freezes in 2009 and 2012, and a 2% rise in 2013.
The deal will also see Batjic workers get an extra day of holiday, meaning they are entitled to 22 days' holiday per year.
Young adult operatives, apprentices and trainees will see even higher increases in pay worth 3% in both 2014 and 2015. The FMB said this was in recognition of the industry's need to attract and retain young talent.
The deal is further evidence of the upward pressure on costs starting to be felt by both main contractors and their supply chain with rising workloads.
Brian Berry, chief executive of the FMB, said: "This deal reflects the cautious optimism and the desire for long term stability now present in the industry. The construction sector is finally seeing consistent growth for the first time in five years. Yet, this growth is from a very low base and remains relatively constrained for many of our members."
"However, our members are now looking to the future with expectations of growing workloads. Therefore, it is right that, after some difficult years, this agreement recognises this with a significant pay increase for hard-working employees. The two year nature of the deal will provide certainty and reassurance for employers and employees alike."
The pay rates recommended by BATJIC agreement are not mandatory but, rather, are recommended minimum rates. The deal covers up to 200,000 employees and about 9,000 employers in the SME sector of the building industry.