Just two missing government's 60 days target
Murphy has made the greatest improvement on the time it takes the country's biggest firms to settle up, slashing its payment times by 28 days.
The north London contractor now takes an average of 25 days to pay its suppliers, according to the latest payment reports of the industry's largest firms.
Under government legislation, firms with more than 250 employees and an annual turnover of more than £36m are required to publish their payment records every six months.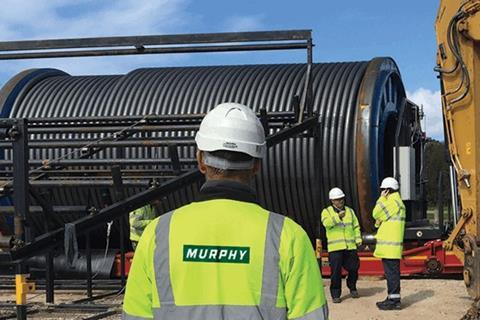 Housing provider Mears Group and the country's largest private contractor Laing O'Rourke rounded out the top three of the industry's most improved firms based on their most recent reports.
Mears shaved 18 days off its average payment time – settling its bills in an average of 39 days.
Laing O'Rourke said its average payment time in the six months to 30 October was 34 days, an 18-day improvement from the previous period. The firm is next due to report on 30 April.
>> League table: How long do the top 50 contractors take to pay up?
The slowest payers in the latest update are London tower builder Multiplex and Vinci-owned roads specialist Eurovia, which took an average of 49 and 47 days respectively.
Just one of the country's 50 biggest contractors and housebuilders is failing to hit the government requirement of paying 75% of invoices within 60 days.
Demolition and concrete specialist Careys just missed the target when it last reported – paying 73% of its bills within two months. The firm is next due to report on 30 April.
Contractors Buckingham, Graham and Laing O'Rourke all paid between 75% and 80% of their bills within 60 days.
Last August the government pulled back from insisting contractors pay 95% of all invoices within 60 days or risk being thrown off public sector jobs after admitting the target was too high.
Figures at the time showed that just four firms were meeting the government standard for their latest reporting periods and only one of them, Willmott Dixon, also hit the target in its previous reporting period.
The cabinet office quietly revised its plans when in a guidance note it said a firm would be deemed not to be at risk of being barred from public sector work if it "has paid between 75% and 95% of all its invoices within 60 days in at least one of the previous two reporting periods".
For Building's payment times league table click here