Airey Miller will advise council on plans to build 3,000 homes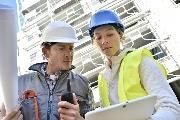 South London's Lambeth council has appointed consultant Airey Miller in a five-year deal to advise and support it with its estate regeneration programme.
Airey Miller will work in a client-side role providing strategic, commercial and technical development support services.
The local authority recently set up a 'Homes for Lambeth' wholly-owned housing company to build new homes in the borough.
HfL will use the 15-20% development surplus that private developers usually make and reinvest it back into building more local homes.
It plans to regenerate 1,500 existing homes and develop 3,000 new homes across six of its estates. Plans for the first three are being developed in consultation with residents.
The council has set up resident engagement panels to talk to residents effected by the scheme. Lambeth aims to have the first planning applications in by the summer.
Caroline Pillay, Airey Miller partner and leading the team working on the commission, said: "This is an unprecedented time for local authority house building and the proposals being pursued by Lambeth show the commitment they are making to increase housing supply and to secure improvements and prosperity for the borough."
Sue Foster OBE, strategic director Neighbourhoods and Growth said "it is an exciting time for residents in the borough. The appointment of Airey Miller to support Lambeth deliver its ambitions is very much welcomed."