Aecom and Jacobs among design work winners
Network Rail has awarded 82 framework contracts to deliver design services nationally, worth between £400m and £640m for the network operator's Control Period 6 (CP6).
The Design Services Framework (DSF) consists of four multi-discipline frameworks and 78 single-discipline frameworks.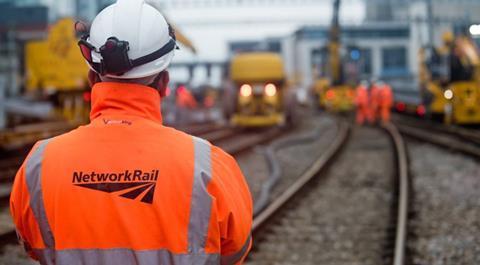 Aecom, Jacobs, Mott Macdonald and WSP have all been appointed to the multi-discipline national frameworks, as well as the single discipline regional frameworks alongside 30 other suppliers such as Balfour Beatty, Kier and Pascall + Watson.
Two contracts per region have been awarded for 10 single disciplines, including Buildings & Architecture, Civil & Structural and Track.
The new DSF, which is the successor to Network Rail's existing deal, known as the Multi-Functional Design Framework, aims to provide access to a wider range of suppliers including small and medium-sized firms.
The CP6 period covers Network Rail's delivery plan for 2019-2024.
Contracts also include the option to extend the framework into Control Period 7, which runs from 2024 until 2029.
Multi-Discipline National Frameworks
| Supplier | Discipline | DSF Region* |
| --- | --- | --- |
| Aecom | Multi-Discipline | National |
| Jacobs UK | Multi-Discipline | National |
| Mott MacDonald | Multi-Discipline | National |
| WSP | Multi-Discipline | National |
Single Discipline Regional Frameworks
Supplier
Discipline
DSF Region*

Aecom Infrastructure & Environment UK Limited

Track

North West & Scotland

Track

South West

Alun Griffiths (Contractors) Ltd

Telecoms

North West & Scotland

Telecoms

South West

Telecoms

North East

AM Signalling Design Ltd

Signalling

South West

Signalling

South East

Amey OWR Limited

Electrification & Plant - Plant

South West

Signalling

South West

Track

North East

Andromeda Engineering Ltd

Electrification & Plant - Contact Systems

South East

Electrification & Plant - Contact Systems

South West

Arcadis Consulting (UK) Ltd

Electrification & Plant - Distribution

North West & Scotland

Electrification & Plant - Distribution

North East

Civils & Structural

North West & Scotland

Buildings & Architecture

North East

Baker Hicks Limited

Track

South West

Electrification & Plant - Contact Systems

North East

Geotechnical

North West & Scotland

Balfour Beatty Rail

Electrification & Plant - Contact Systems

North East

Track

South East

Track

North East

Capita Property & Infrastructure Ltd

Civils & Structural

North West & Scotland

Civils & Structural

South East

Consents & Environment

South East

DB Engineering & Consulting GmbH

Telecoms

South East

Egis Rail UK Ltd

Signalling

North West & Scotland

Signalling

North East

Idom Merebrook Ltd

Buildings & Architecture

South West

Electrification & Plant - Contact Systems

South West

Jacobs UK Limited

Geotechnical

North East

Geotechnical

South West

Civils & Structural

North East

Kier Integrated Services Ltd

Electrification & Plant - Plant

South East

Signalling

South East

Kristelan (UK) t/a SVM Glasgow.

Electrification & Plant - Plant

North East

Electrification & Plant - Plant

South West

Electrification & Plant - Plant

South East

Mott MacDonald Limited

Track

North West & Scotland

Electrification & Plant - Contact Systems

North West & Scotland

Navitas Engineering Ltd

Electrification & Plant - Distribution

South West

Pascall & Watson Limited

Buildings & Architecture

South East

Pell Frischmann Consultants Limited

Civils & Structural

South East

Buildings & Architecture

North West & Scotland

Civils & Structural

North East

Ramboll UK Limited

Geotechnical

North East

Geotechnical

South West

Geotechnical

South East

Buildings & Architecture

North East

Robert Bird & Partners Ltd

Civils & Structural

South West

RPS Consulting Services Ltd

Buildings & Architecture

South East

Buildings & Architecture

North West & Scotland

Buildings & Architecture

South West

RSK Environment Ltd

Consents & Environment

South West

Siemens Mobility Limited

Electrification & Plant - Distribution

South East

Electrification & Plant - Distribution

South West

Softech Rail Limited

Telecoms

South East

Telent Technology Services Limited

Telecoms

North West & Scotland

Telecoms

South West

Telecoms

North East

Temple Group Limited

Consents & Environment

South East

Consents & Environment

North East

Tony Gee & Partners LLP

Geotechnical

North West & Scotland

Geotechnical

South East

Tony Gee & Partners LLP and Egis Rail UK Ltd

Track

South East

UK Power Networks Services Ltd

Electrification & Plant - Distribution

North West & Scotland

Electrification & Plant - Distribution

North East

Electrification & Plant - Distribution

South East

VolkerRail Specialist Businesses Ltd

Electrification & Plant - Plant

North East

Signalling

North West & Scotland

Signalling

North East

Waterman Infrastructure & Environment Ltd

Consents & Environment

North West & Scotland

Consents & Environment

North East

Consents & Environment

South West

Wood Environment & Infrastructure Solutions UK Ltd

Consents & Environment

North West & Scotland

WSP UK Ltd

Electrification & Plant - Contact Systems

North West & Scotland

Electrification & Plant - Contact Systems

South East

Civils & Structural

South West