Following last week's ONS output tonic, more good news as amount of awards up £2bn last month
Last week's news that construction output had bounced back in January has been underlined by the latest data from information specialist Glenigan which said clients handed over £2bn more work in February.
On Friday, Office for National Statistics figures said output in the sector was up 0.9% compared to a 2.9% drop in December.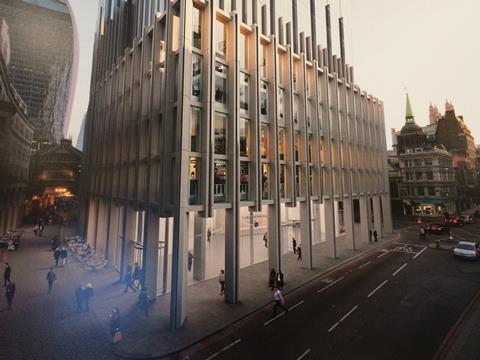 And Glenigan said the momentum has rolled over into February with nearly £6.4bn worth of work awarded last month, an increase of almost £2.2bn from January.
The figures (see below) reveal the most work was awarded in the private housing sector, with firms here inking deals worth just over £1.22bn – or around 19% of all work handed out in the month.
After private housing the next most prolific sector was social housing, with clients here awarding firms £1.17bn of business.
This was followed by those in the industrial sector, at £718m and commercial clients awarding £670m worth of work.
Among the deals signed in the month were a brace for Multiplex – a £400m scheme by Chipperfield Architects to turn the former US embassy in London's Grosvenor Square into an upmarket hotel for Qatari Diar and a job to build Make's 35-storey at 1 Leadenhall for Brookfield. The CM deal for its developer parent is believed to be around £250m.
And ISG inked a £50m-plus job to fit out the new King's Cross headquarters of US tech giant Facebook.
Meanwhile, the data has also revealed that £10.6bn worth of projects were approved in February.
The private housing sector was the market with the highest value of projects approved, securing permission for 365 schemes worth almost £3.2bn.
After private residential, commercial achieved the second-highest value of approvals at £2.6bn – though £1bn of this was for a 10-storey building in King's Cross that will be the home of pharma company Merck and where CPC is project manager.
Top spending clients - February 2021
The tables below show contract awards by sector for February put together by Glenigan. They are just a small part of the client information that is accessible through the Building Boardroom Network.
The Building Boardroom Network is an easy to use portal where you will be able to access a wide range of vital business insight including research and tools to help bring your construction clients to life. Find out more at: https://www.building.co.uk/building-boardroom/

Social housing
| Ultimate company name | Total number of projects | Total value of projects |
| --- | --- | --- |
| Newlon Housing Trust | 1 | £196m |
| London Borough of Camden | 2 | £130m |
| Bracknell Forest Borough Council | 1 | £124m |
| Shepway District Council | 1 | £70m |
| Strawberry Star Associates | 1 | £60m |
Retail
| Ultimate company name | Total number of projects | Total value of projects |
| --- | --- | --- |
| Aldi | 7 | £17.72m |
| Opus Land | 1 | £12.02m |
| Tesco | 5 | £9.97m |
| Lidl UK | 5 | £9.5m |
| Co-operative Group | 9 | £6.07m |
Private housing
| Ultimate company name | Total number of projects | Total value of projects |
| --- | --- | --- |
| Apache Capital/Birmingham City Council/Moda Living | 1 | £260m |
| Blackswan Property | 1 | £100m |
| Hub Residential/Wembley Link | 1 | £100m |
| Argent Group/London Borough of Haringey/TH DM | 2 | £65.441m |
| Blocwork/Grainger | 1 | £56m |
Offices
| Ultimate company name | Total number of projects | Total value of projects |
| --- | --- | --- |
| 1 Leadenhall Limited Partnership/BOP SARL/Brookfield Developments Europe | 1 | £400m |
| Argent Group/Facebook | 1 | £52m |
| Great Portland Estates/Knighton Estates | 1 | £50m |
| English Cities Fund/Morgan Sindall | 1 | £41m |
| DP9 | 1 | £20m |
Medical & scientific
| Ultimate company name | Total number of projects | Total value of projects |
| --- | --- | --- |
| Department of Health | 30 | £198.866m |
| Sanders Senior Living | 1 | £91.65m |
| AstraZeneca | 1 | £46.38m |
| United Kingdom Atomic Energy Authority | 2 | £25.8m |
| Department of Health/Leeds Teaching Hospitals | 1 | £21m |
Industrial
| Ultimate company name | Total number of projects | Total value of projects |
| --- | --- | --- |
| Newlands UK | 1 | £98m |
| PLP & Knowsley Unit Trust | 1 | £86.094m |
| Next | 1 | £80m |
| Network Space/St Helens Council Home | 1 | £54m |
| anmoor Developments/Panattoni & LU UK V Sarl | 1 | £42.5m |
Hotel & leisure
| Ultimate company name | Total number of projects | Total value of projects |
| --- | --- | --- |
| Grosvenor Group/Qatari Diar | 1 | £400m |
| Royal Borough of Greenwich | 1 | £55m |
| Shepway District Council | 1 | £20m |
| CSHV IUK ET PropCo/Invesco Real Estate | 1 | £19m |
| Haymarket | 1 | £15m |
Education
| Ultimate company name | Total number of projects | Total value of projects |
| --- | --- | --- |
| London Borough of Tower Hamlets | 1 | £52m |
| University Of Leeds | 3 | £33.5m |
| University of Cambridge | 1 | £24m |
| East Dunbartonshire District Council | 1 | £23m |
| Barnfield College/West Herts College | 1 | £19m |
Civil (infrastructure)
| Ultimate company name | Total number of projects | Total value of projects |
| --- | --- | --- |
| Department for Transport | 5 | £236.75m |
| Hampshire County Council | 3 | £35.1m |
| Cardross Asset Management/West Craigs | 1 | £20.385m |
| Creag Riahbach Wind Farm/Erg UK | 1 | £18.5m |
| Department for Transport/Hartpury College Governors | 1 | £16m |

* private housing awards data refers to external contracts only and does not include frameworks
** projects awarded by a joint venture are listed independently to both single party clients